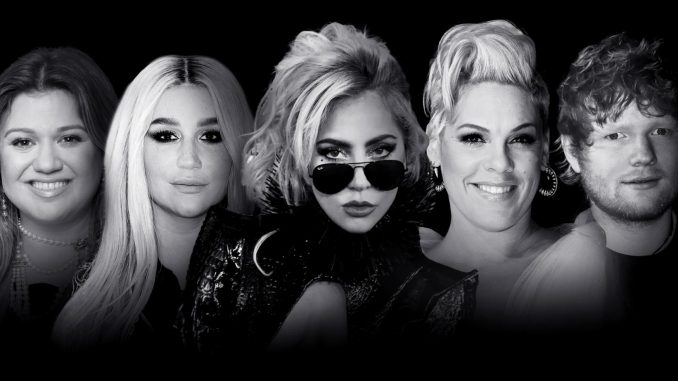 Nikki Defruscio, Contributing Writer | 
This year's Grammys has drawn controversy amongst the public. Along with other inflictions, social media seems to be outraged by the Best Pop Solo winner of the 60th annual Grammys. The winner, Ed Sheeran, who released his debut album in 2011, beat out four iconic women who have been in the music industry for over 10 years.
With women's rights being such a pressing issue in today's media, it's not a shock that so many people would be upset by this outcome. When looking at the songs nominated, "Love So Soft" by Kelly Clarkson, "Praying" by Kesha, "Million Reasons" by Lady Gaga, "What About Us" by P!nk, and "Shape Of You" by Ed Sheeran, there is a notable difference in the weight of themes of each song.
"Love So Soft" depicts Clarkson's desire for a romance that strengthens one's spirits rather than crushing them. "What About Us" by P!nk depicts the hardships she's faced in past relationships, and Lady Gaga's "Million Reasons" expresses  the emotional turmoil and confusion loving somene can cause.
Among the nominations, the song that carried the most weight was "Praying" by Kesha. Many are aware of the court case that put Kesha's singing career on hold for years. In October 2014, Kesha filed a civil suit against her music producer Lukasz Sebastian Gottwald, known as Dr. Luke, for sexual assault, sexual harassment, gender violence, and emotional distress. Dr. Luke retaliated with his own law suit, locking up Kesha's music career for years on end. This experience is what inspired the lyrics to her single "Praying," her first hit since winning her court case and being released from her contracts with Dr. Luke.
While these songs address obstacles these singers have faced, Sheeran's "Shape Of You" pales in comparison. This song blatantly states, "I'm in love with your body," describing Sheeran's lust for the female body. When this sentiment is mixed with the fact that he beat four women to win the Grammy, it's hard to ignore the disregard and invalidation of women. To make matters worse, Sheeran wasn't even present to accept the award.
Public backlash was quick to follow—#GrammysSoMale began trending on Twitter, building off the fact that only one female artist, Alessia Cara for Best New Artist, was presented a solo Grammy. In response to the complaints, Recording Academy President Neil Portnow was quoted by Variety saying, "It has to begin with… women who have the creativity in their hearts and souls, who want to be musicians, who want to be engineers, producers, and want to be part of the industry on the executive level…[They need] to step up."
Portrow later attempted to clarify his statement, explaining, "Our industry must recognize that women who dream of careers in music face barriers that men have never faced…I regret that I wasn't as articulate as I should have been in conveying this thought." Either way, the entertainment industry continues to face gender-based tensions.
In the end, it's impossible to say whether or not Ed Sheeran deserved to win Best Pop Solo. Although some may argue Sheeran's song does not possess as much depth as his competitors', the Grammys have been known to judge on more than just lyrical meaning and sentiment. The current state of America may have some effect on the opinions of social media, not giving Sheeran the benefit of the doubt due to its current state of distraught over women's rights.