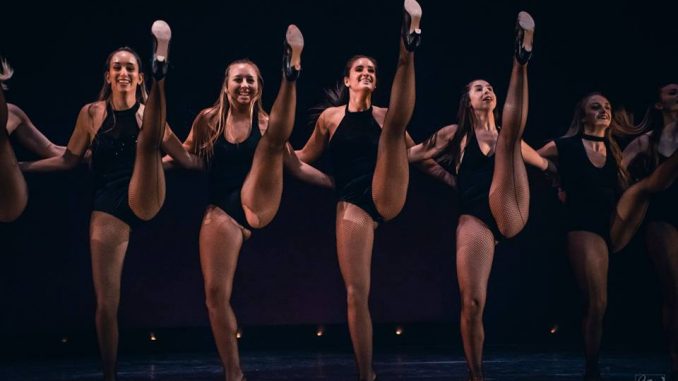 Alexandria LaFlair, Staff Writer | 
The Oneonta Terpsichorean Dance Company presented their semester-long project "Terps Galaxy: Out of This World" on November 30 and December 1 at 7 p.m., and December 2 at 5 p.m. in the Goodrich Theatre.
The sold out shows were two hours long and were much more than "a bunch of dancers on a stage." A total of 17 dance routines were performed. Each was introduced with a PowerPoint created by the team around the theme of space, or by the four male hosts, Jared, Chris, Patrick, and Austin, completing a hilarious skit for comic relief during some of the more serious and powerful dances.
For example, one dance titled "Rival" contained a group of dancers dancing in what looked to be an inner battle with themselves. The fluidity and emotion on their faces made the routine intoxicating, as the audience often lost track of time. Another performance titled "Move, Shake, Drop" was a mix of early 2000s hip hop songs. The outfits in this scene, as well as every other, reflected the mix, dance, and attitudes of the specific scene/genre.
Aside from the hosts and dance performances, Pitch Slapped performed an accapella song, and SUNY Oneonta student Ethan Levy performed an original song as a solo acoustic set. Alum, family, and friends of the Terps dancers screamed out their encouragement through the entire show.
In an interview with Terps member Emily Hill, she stated that this semester, the group had ninety-six girls and one boy. "The audition process starts out fresh every semester, and anyone chosen for the team is eligible to create a choreographed dance. From there, there are many meetings and auditions on determined routines, costumes, and the music. All is decided and rehearsed for the next few months!" she explained.
A completely student-run company, each member has the power to create their own dances or contribute ideas for themes and costumes.
At the end of Saturday's performance, the e-board, injured members, and seniors were given extra applause. It was a great finale to a wonderful Fall semester!