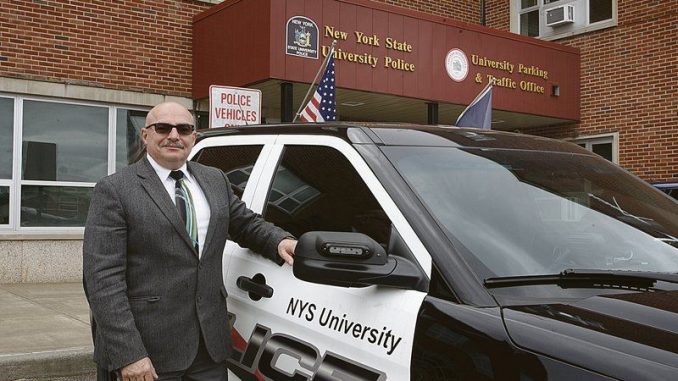 Marcus Mallon, Contributing Writer |
Happy October!
My name is Marcus Mallon, I am a police officer with your university police department. Throughout this school year, our department will use this space graciously provided to us by the State Times to speak directly to you in order to give you important safety tips, address stories of interest, and provide a bridge for a stronger relationship with you, the students of SUNY Oneonta.
In this inaugural column, I would simply like to take the time to explain to you who the people of our department are and what we do. We realize that some of you have had past experience dealing with law enforcement agencies, but for many others, your first ever experience dealing with a police officer might be an interaction with one of us. So, we would like to make sure you know what to expect if, and when, you come in contact with a member of this department.
The New York State University Police in its current form first came into existence in 1999. Prior to that, SUNY campuses had Public Safety officers. Today, our department is staffed by professionally trained police officers who have attended a regional police academy, and so we have all the skills and training of a city police officer or sheriff's deputy.  We operate in a unique environment with a population that is constantly changing, so we are in a perpetual state of getting to know our students before we see them off on commencement day a few short years later.
Our department, at full staffing, consists of a chief, twelve patrol officers, six dispatchers, as well as four lieutenants who act as administrators and patrol supervisors. So when you travel to the SUNY Oneonta campus, you may start noticing some familiar faces in uniform.
We provide 24/7 continuous coverage of the campus at all times, even during the semester breaks. At any time of the day or night, there will always be someone to answer the phone if you call for us, and there will always be an officer on the road to respond wherever you need us. We serve many functions, including enforcement of state laws, as well as assisting with enforcement of campus policies, such as the student code of conduct, but our most important job of all is to ensure your safety.
You may see officers patrolling campus in marked patrol vehicles, on bicycles (but maybe not so much in the winter!), or even just walking on foot. It is normal to see us all over campus, so don't be alarmed if you see an officer in your dorm — we may be responding to a complaint or a call for service, or we may just be walking through to say "hi" and see how things are going.
Sometimes, we may be dealing with an emergency, but if we are not in a rush, we almost always have time to stop and talk. Being around a police officer may feel intimidating, especially if you have never experienced that before, but we absolutely want you to feel safe and comfortable approaching us. We are regular people, and we do care about you; that's why we're here!
With all that being said, we do also have an important job to do, which actively requires enforcing laws. Our officers are trained to be professional and courteous in the course of our duties. If you are approached by one of us when we are investigating a crime, or if you are driving a vehicle that gets pulled over, please remember that the UPD officer is primarily concerned with carrying out a safe and thorough investigation.
The officer you speak to may not immediately know all of the necessary details about the situation, so please bear that in mind and be patient. You may have questions or concerns, and there will be a time to have those addressed, but until the officer knows the situation is safe and under control, they may be unable to extend certain services to you.
In the weeks to come, I will go over what to do when stopped by a police officer in greater detail; but for now, I offer you the advice to stay calm and be respectful so that the officer can give you as much courtesy as possible in the given situation.
I want to hear from you! If there are any topics you would like addressed from UPD in the future, if you have feedback on a current article, or even if you just have a general question about UPD, send me an email at [email protected]. Until next time, here's wishing you all a safe, happy, and successful semester.