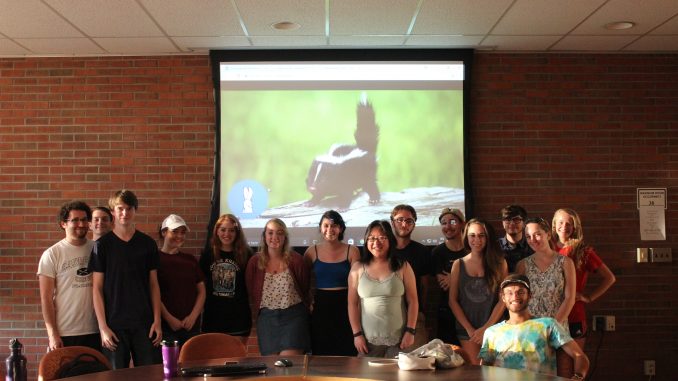 Michelle Barbero, Staff Writer |
On Tuesday, September 16, SUNY Oneonta students gathered for the "What is Philosophy?" lecture at 6 p.m. in the Glimmerglass room of Hunt Union. This lecture served as an introduction to philosophy, and it incorporated important ideas and topics that gave students an opportunity to see if philosophy strikes their interest.
Philosophy Club Secretary Morgan Ruggiro led the lecture, and she began by explaining the origins of philosophy. The three main branches of philosophy were introduced to give students a background on this discipline as well as make them more comfortable with how to approach philosophy and formulate questions about it. Ruggiro went on to explain how people use logic to form arguments that are then used to answer philosophical questions. To conclude the lecture, the speaker posed the question, "Why is philosophy important?"
Several important topics were covered during the lecture. When it came to deciding what content to present, Ruggiro shared that, "Since it was an introduction to philosophy, I used a lot of the concepts I was taught in my Introduction to Philosophy course I took Sophomore year." The three main branches of philosophy were a topic of interest. The branches include axiology, metaphysics, and epistemology, and the definitions of which can differ depending on who is being asked.
Students got to test out what it is like to deal with philosophical questions first hand during the presentation. Questions were answered in mini discussion groups.
Ruggiro revealed that, "In talking about metaphysics, nature, or reality, we discuss our own existence."
Some questions that typically arise regarding this topic include: "How do we know that we are not just a figment of someone else's imagination?" or "How can we know for certain that the world we perceive is not simply a string of illusions?"
This semester, the Philosophy Club e-board is looking to foster more student-led discussions. On the "SUNY Oneonta Philosophy Club" Facebook page, the e-board will put up polls to let members of the club contribute their opinion about what should be discussed at each meeting.
Ruggiro explained that, "If the discussion dies down, we open the floor to anyone who has any suggestions for what they would like to discuss."
The power to lead a discussion does not only lie in the hands of the e-board, but extends to all the members of the club as well.
If you are looking to take part in a lively discussion, there is always an impressive amount of student participation at Philosophy Club meetings.
"Usually about 20 students attend the meetings each week, and out of these 20, I would say that at least 12 of them contribute to discussion in some way," said Ruggiro.
If you are the type of person who prefers to talk less and would rather observe at the discussions, don't be intimidated. There will be other people who just enjoy listening.
Morgan would define philosophy as "a tool to understanding and to acquiring knowledge. It allows us to delve into any aspect of knowledge, reality, beauty, morals, existence, etc. to learn more about ourselves, others, and the world around us."
SUNY Oneonta offers a Philosophy major with a thought-provoking curriculum. This area of study teaches students to ask more questions to boost critical thinking skills.
For example, Ruggiro said, "In my Metaphysics class, we are focusing on deconstructing our preconceived perception of time to question if time is even real."
Students learn to delve deeper into topics that can be commonly overlooked or automatically understood in a standard fashion.
If you are interested in joining Philosophy Club, there are meetings every Tuesday at 6:00 p.m. in the Glimmerglass room of Hunt Union. This semester, the club plans on working together with the Philosophy department. If you have questions or comments, you can contact Ruggiro at [email protected].