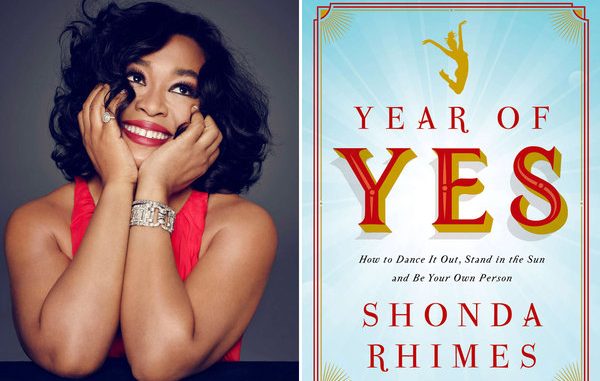 Ashley Palmietto, Contributing Writer|
Known for her myriad contributions to television, Shonda Rhimes brilliantly catches audience attention once again by coming out with New York Times bestseller "Year of Yes: How To Dance It Out, Stand In The Sun, and Be Your Own Person" published by Simon and Schuster in September 2016. Shonda's memoir has been nominated for NAACP Image Award for Outstanding Literary Work and Audiobook of the Year. She is the creator and producer of Hollywood's critically acclaimed shows Scandal, Greys Anatomy, How to Get Away With Murder, and Private Practice.
Being highly successful, you may assume that she has it all together. Despite her fame, her introverted personality and social anxiety has prevented her from meeting people and all the opportunities that affords. She has declined interviews, event gatherings, and speeches. In her newest memoir, she explains her struggle with backing out of opportunities. She seldom took chances until one Thanksgiving, her sister confronted her, telling her she never says yes to anything. It was a wake-up call for Shonda. She took her sister's criticism into consideration and committed herself to stepping outside of her comfort zone and accepting new people and opportunities for a full year.
Saying yes to these opportunities has led her to lose over one hundred pounds, make an appearance on Jimmy Kimmel, interview with Oprah, experiment with acting and give a commencement speech at Dartmouth College. These were hard transitions for her, but she gradually learned to accept herself for who she is, gain empowerment, and speak. She's since developed a routine of saying yes to nearly every opportunity. She has learned to stand up for herself by saying no to negative people and saying yes to saying no. Her honest, witty, and charismatic behavior inspires readers to take chances and feel a sense of personal growth. She relates to her readers on a personal level by explaining her fears authentically.
One major aspect I found to be influential in her memoir was when she was explaining the difference between "do-ers" and "dreamers." "Do-ers" are people who prefer to work hard for the things they want to accomplish while "dreamers" choose to imagine them being successful without the "doing." If she did not fail and get back up, she would not have gotten where she is today. Her influential words inspire readers to take chances without the fear of failing.
"A Year of Yes: How To Dance It Out, Stand In The Sun, and Be Your Own Person" is a great book for someone who is looking to get inspired and motivated. Rhimes teaches readers how to take chances and how to overcome their personal obstacles to achieve what matters to them the most.