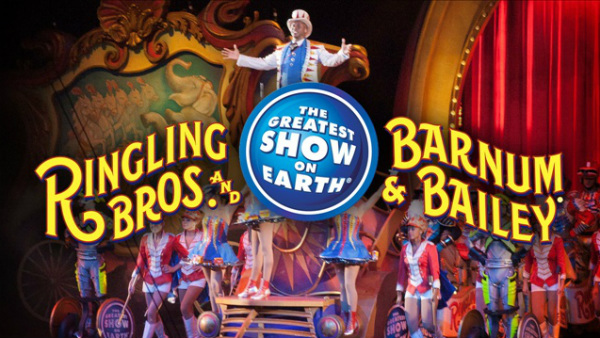 Alexandria La Flair, Staff Writer |
Ringling Bros. and Barnum and Bailey, with 146 years under their belts, are cutting down their big tents this year for good. With ticket sales dropping in the past three decades, especially after they got rid of their elephant act, the family and company have decided it is time to close their doors.
"The Greatest Show on Earth" was founded by five of the seven Ringling brothers of Wisconsin in 1882, and their first real show took place in November of the same year. They acquired the Barnum and Bailey name in 1919, after competing with them and other smaller shows and companies for 20 years.
Currently, there are two separate shows running: "Ringling's Out of This World" and "Ringling's Circus Xtreme." This past Saturday, April 8, SUNY Oneonta's Mask and Hammer Theater Club attended the latter show. Beforehand, the club got the chance to go backstage and meet some of the members and performers. Among them was SUNY Oneonta Alumnus Beth Walt, who became a Ringling clown after graduating last year.
The show went from 3:00 p.m. to 5:00 p.m. This wonderful circus never disappoints. You step in and see the giant lights and elaborate pieces used in the acts. You smell the popcorn and animals. You hear the children giggle and the live band play. Although the food and souvenirs are overpriced, parents still end up letting their little ones get their faces painted and take home the annoying light sabers. But who can help it, particularly since it's the last time we'll see them perform?!
The theme was "Circus Xtreme" and we traveled around the globe with the first ever female ringleader, Kristen Michelle Wilson. During our journey, we were astonished by the King of the Jungle, who tamed 13 ferocious tigers. The audience let out an "ooo" and "awe" at the array of trapeze artists dangling high above our heads. We also fell in love with the adorable poodles pushing each other around.
We almost became overwhelmed at the amount of tricks and trades accomplished by the performers of all ages and ethnicities. They were moving all around us throughout the show. Words cannot express the excitement we felt in the Mohegan Sun Arena in Wilkes-Barre, PA.
Their final show, the "Out of This World" performance, is scheduled for May 21 at Nassau Veterans Memorial Coliseum in Uniondale, NY.
What will come of the show's over 400 employees is uncertain. The animals will be placed in various zoos and sanctuaries across the country, allowing them a peaceful end to their careers.