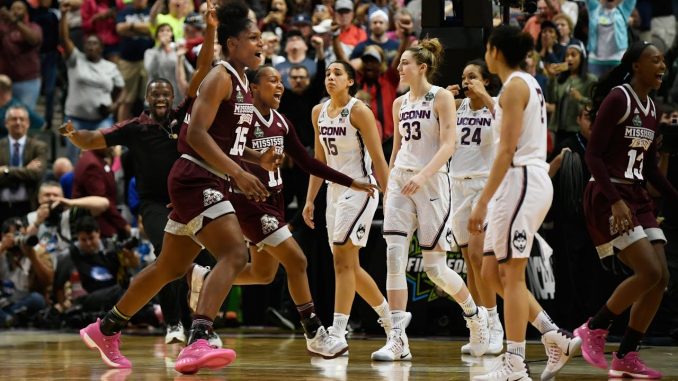 Derek Dimino, Staff Writer |
A miraculous run has finally come to an end. The University of Connecticut Huskies were upset on Friday by the second-seeded Mississippi State Bulldogs in the Women's March Madness tournament, ending a 111-game winning streak that started in 2014.
In a truly story-book ending, the Bulldogs dragged a dramatic Final Four game into overtime. It was here where they mounted the Huskies at the buzzer with an off balanced shot from the top of the key by guard Morgan William.
Mississippi State led for the majority of the game, before UConn finally caught up in the third quarter. UConn was briefly able to gain the lead during the third quarter but the teams were battling neck and neck, leaving ties at the end of the third and fourth quarter. In a game decided by second chance efforts and fast breaks, the Bulldogs out-matched the Huskies on the offensive boards thirteen to six while also gathering twice as many steals.
Though Connecticut had blocked eight shots throughout the game, it was not enough to outlast the vengeful Mississippi State team, especially in their first overtime since their last loss. At the final second of the overtime, a near-blocked shot from William rang true, sending Mississippi State to their first tournament finals in school history.
The game plan of the Bulldogs to shut down Nepheesa Collier could not have worked better. Collier was held to just 11 points, well below her average points per game coming into this game of 20.4. The Bulldogs also did a great job at lessening Katie Lou Samuelson's contribution to the Huskies. As one of the top three point shooters in the NCAA, Samuelson's perimeter consistency was apparent, yet the amount of shot opportunities was less than necessary to hand them a victory.
So, for the first time since 2011, the University of Connecticut Huskies will not be in the March Madness final. Ending their extraordinary winning streak, Mississippi State handed UConn their first loss in three years. This also prevented them from adding to their five-year championship-streak.
With this loss, the women's Division-I college Basketball playing field is beginning to look a little more competitive. Even if it's not exactly "even" yet and the Huskies are still the front-runner to win next year, the Bulldogs victory has shed light onto some weaknesses Coach Geno Auriemma and the Huskies exhibit, and how to take advantage of them. UConn is certainly still a monster of a team, but now the rest of the league knows the Huskies can bleed.