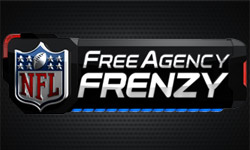 Wyatt Cushman, Staff Writer |
A little over a month ago, we witnessed Tom Brady and the New England Patriots complete the largest comeback in Super Bowl history, giving the franchise its fifth Lombardi Trophy. As the Patriots know by now, winning the Super Bowl brings a great deal of excitement to an organization and allows them to celebrate well into the offseason, but what they also know is that the offseason is a crucial part of any team's success. On March 9, at 4:00 p.m., the new league year began, commencing free agency.
Free agency is a period that allows players and teams to negotiate new contracts, and every year we see high profile players move to new teams because that player is offered more money to go play for that new team, or sometimes they feel this new team will give them a chance to win a Super Bowl in the future, which is a big incentive to any player.
There was no shortage of action during this year's free agency period. There was a large market for wide receivers this offseason, with many high-profile names eligible to test the open market. Brandon Marshall, previously of the New York Jets, stayed in the Big Apple and signed a two-year, $11 million contract with the Giants, giving quarterback Eli Manning yet another weapon. The Giants division rivals, the Philadelphia Eagles and Washington Redskins, also signed new wide receivers. The Eagles signed Alshon Jeffery and veteran Torrey Smith to help second year quarterback Carson Wentz, and the 'Skins brought in Terrelle Pryor on a one-year deal. The corners of the NFC East are in for a long year if all of these players can stay healthy.
The cornerback position caught the eyes of several other teams across the league. Perhaps the best player available at this positions was A.J. Bouye of the Houston Texans. Bouye is coming off the best season of his career and the Texans know it. When asked about Bouye, the team said they wanted the young corner on their team next year, but he has found a new home with divisional foe Jacksonville.
While we have seen plenty of players swap jerseys already, the biggest offseason prize is still available. Adrian Peterson will surely sign with a new team after his old one, the Minnesota Vikings, signed Latavius Murray to replace him earlier this offseason. Peterson is one of the best running backs this game has ever seen. He has compiled 11,747 yards during his career and has won several awards including MVP. Wherever he ends up going, Peterson does come with some questions. A torn meniscus sidelined him for most of the 2016 campaign, and with Peterson now at age 31, it's tough to tell how much he has left in the tank.
With the hectic part of free agency behind us, the next thing to look forward to during the NFL offseason is the draft, which will take place April 27-29 in Philadelphia.