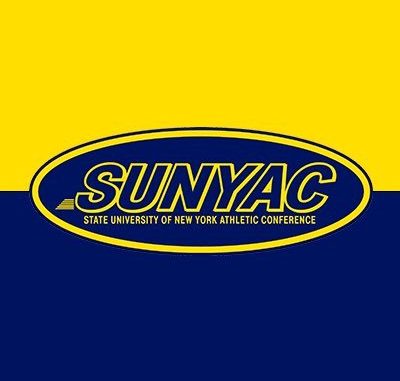 Derek Dimino, Staff Writer
After two definitive in-conference wins this past weekend, the Oneonta Women's basketball team (15-10, 12-6 conf.) has clinched the third seed going into the SUNYAC playoffs starting at 7:30 p.m. on Tuesday, February 21. Although they weren't able to overcome the one game spread to get a first round bye, the Red Dragons did a remarkable job at maintaining home-court advantage at Dewar Arena against sixth seed Brockport (9-16, 8-10) in the first game of the playoffs.
Oneonta will be vengeful on Tuesday after Brockport overpowered the Red Dragons less than two weeks ago. While Oneonta did a great job at containing Brockport's leading scorer, Hannah Rehbaum, and outrebounding offensively, Brockport's sixth man, Olivia Lebaron, was able to fill all voids with 25 points.
Since Cara Adams went down with an injury a few weeks ago, Oneonta has struggled from the three-point line. With Adams out for the entirety of the playoffs, the Red Dragons will need to find a new face to provide a threat around the perimeter. No one so far has been able to fill the vacancy better than Leanne Corso had against Potsdam. While Potsdam is not quite the competition Brockport will be on Tuesday, Corso was lights-out with 16 points, 14 rebounds, six blocks and two steals, while shooting an amazing 80% from the field (only missing a single three-point shot) and 100% from the charity stripe.
Combine Corso's electricity with the consistency of Alexa Amalbert and Kathryn Polletta and then the paint presence of Madeline Frank and Sara DiPasquale with Teresa Anken and Samantha Lisikatos ability to get the ball to the right players, and the Red Dragon's will leave Brockport no opportunity to stop them.
This season the Golden Eagles have leaned on the paint presence Rehbaum and Lindsay Johnson, with many needed jump shots provided by Faith Welch within the perimeter. Rehbaum and Johnson are defensive nightmares, each averaging around 10 points and about seven rebounds a game.
The Oneonta Women's Basketball team will need to come up big in the paint on defense in order to stay ahead of the Golden Eagles on Tuesday.
If Madeline Frank and the Red Dragns can own the paint, it will force Brockport to settle for jumpers, a spot the Golden Eagles have struggled at all season. With a well-covered paint, the Red Dragons can focus on jump shooter Welch and three-point specialist Schylar Laux off the bench.
As for the third seeded Oneonta Men's team (15-10, 12-6), they will match up against sixth seeded Geneseo (14-11, 9-9) at Oneonta's Dewar Arena at 5:30 p.m. on Tuesday.
The Red Dragons have thrived on physical play under the basket, led by Lawrence Coleman. Coleman has averaged 20.1 points and 9.1 rebounds per game with an extraordinary 83.5% shooting from the free-throw line. When Coleman can't get it done, Court-general Frankie Kelly gets the ball to his perimeter presence in Mikey McElroy. Far from a one trick pony, McElroy has averaged 21.5 points per game, shooting about 54% from the field, and almost 43% from distance.
Making it in by the skin of their teeth, Geneseo solely counted on guards John Decker and Justin Ringen to carry them into the playoffs. Decker and Ringen lead Geneseo in scoring and rebounding, as well as steals per game.
Without much help in the key for Brockport, Oneonta's Lawrence Coleman and Jack Kolosky will be given a golden opportunity to capatalize on under-the-basket mismatches, confidently giving the Red Dragons the much needed upper hand. With continued passing success from Frankie Kelly and perimeter dominance from Mikey McElroy and Kevin MacKin, Oneonta will have all bases covered (if Brockport's big-men decide to show up).
While easier said than done, if the Red Dragons can limit Decker and Ringens involvement, Brockport's offensive production and second chance opportunities will be slim-to-none.
If Oneonta's Basketball teams can persevere on Tuesday, the women will be playing the second seeded New Paltz (16-8, 13-5) at Geneseo and the men will be playing second seeded Brockport (19-6, 14-4) as Oswego on Friday, February 24.