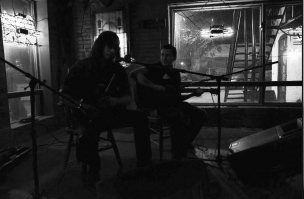 David Anderson, Staff Writer |
Last Wednesday, February 8, The Black Oak Tavern hosted an acoustic showcase displaying the talents of several SUNY Oneonta students including Richie Berger, Emily Beck, David Ormiston, Brittany Keller, Ethan Teper, Connor Chapman, Justin Babbino, and Sean Miller. The showcase featured several students from SUNY Oneonta bands using the venue to try out some more intimate and stripped down songs.
One of the performers, Connor Chapman, reflected, "I have always enjoyed the opportunity to perform at the Oak with my band, Cutting Ice. It was really fun and interesting to play there in a more relaxed setting. I loved having the opportunity to approach performing there from a different perspective."
Cutting Ice includes Mr. Chapman and five others, and is known for using brass instruments in their music. This venue offered audience members a chance to hear songs by
both Mr. Chapman and Cutting Ice collectively, reduced to their most essential elements. 
This setting, where the focus is entirely on the individual performer, has a way of testing even the most seasoned performer. However, Justin Babbino, formerly of Naughty and now of Secret Beaches, felt that despite any feeling of tension, this particular evening had a certain something to it.
He stated, "Performing on any acoustic night can be intimidating because the music is stripped down and you can feel exposed. This acoustic night, however, the crowd brought a warmth with them. Perhaps it was to counteract the cold outside. It felt nice."
Mr. Babbino performed with Secret Beaches bandmate Tom Messina, dubbing themselves "The Philanthropists." They also featured a verse from SUNY Oneonta rapper Eric Cullen.
In addition to these guest appearances the night had no shortage of surprises. Richie Berger, formerly of Cutting Ties, performed traditional Irish jigs on the uilleann pipes and fiddle with Devon DellaMonica on guitar.
When asked about history with Irish music and performance, Mr. Berger had this to say, "I've been listening to Irish music for about three years now, I've been playing the uilleann pipes for two, and the fiddle for one. Out of all the various types of folk music, Irish music is the most progressive, which really appealed to me as a hard rock and metal kind of guy."
Audience members found this detour into Gaelic tradition a refreshing surprise. Christian Hickey, a SUNY Oneonta transfer, stated "it's good to hear some musical diversity at the Oak" and that the evening as a whole was "lovely."
Ultimately, the evening was one in which students could come test out some of their favorite covers with their friends and the more seasoned performers could take a break from the trials and tribulations of playing with a band.