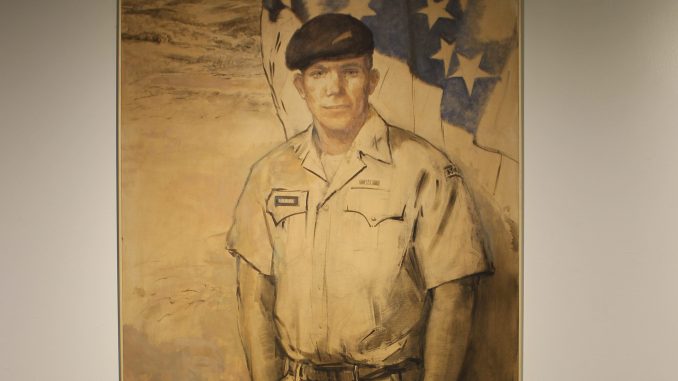 David Anderson, Staff Writer |
Adjunct Instructor Janet Wentworth Erikson began what would become Community Heroes in Portraiture with a simple desire to capture her community members in paint. What became of this endeavor is a multimedia project that involved 37 subjects from Delaware and Otsego County, and it features the photographic and digital media prowess of 14 SUNY Oneonta Students and two Delaware Academy students.
Wentworth began the project three years ago, alerting community members, civic leaders, and elected officials that she was looking for nominations of unheralded heroes in the community. Now the smiling visages of these 37 community heroes, distilled as both paintings and photographs, fill the Project Space Gallery at SUNY Oneonta's Art Department. Accompanying these portraits are a brief description of the hero, who they were nominated by, and a painting of an object that embodies the individual (sheet music, war medals, etc.).
Moreover, the exhibit includes two TVs playing interviews that SUNY Oneonta Art students had done with the heroes about their role in the community. The exhibit also features the photography prowess of several SUNY Oneonta Students, an inclusion that particularly impressed student photographer Lesley-Ann Dries, she raved "I saw Zena Ballas' work and thought it was fantastic. The half-portraits looked very neat and precise. They were also in black and white which I'm a sucker for."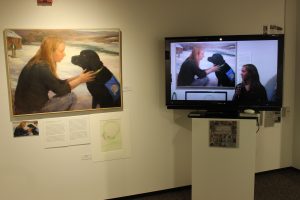 The exhibit also features a glass chest in the center of the gallery containing artifacts from the heroes' lives, ranging from sewing projects, to beloved instruments. Additionally, the exhibit also features a brief history of the medium of portraiture itself, spanning from the exclusivity of its inception to modern times. Viewers can also get a detailed look into the process itself and observe videos of Wentworth painting and talking with the subjects.
In addition to granting the viewer a closer look at the individuals they may take for granted in everyday life, the exhibit also delves into the question about what the qualities of a hero are. The criterion given by the community are vast. Ranging from simple words like "dedication," "character," and "service" to the more specific attributes of someone who is "not paid, thanked or recognized" and "someone not seeking recognition for their good work."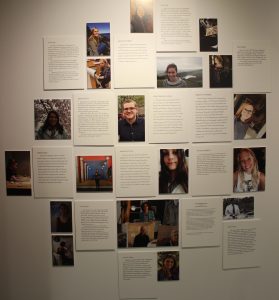 When asked how she herself would define a hero, Wentworth stated someone who is "humble and self-effacing," elaborating that "those who participated were into it but didn't like having the word 'hero' used about them." Ultimately, these criteria leave those who visit the gallery with the understanding that to be a hero is to be someone entirely focused on helping others. A hero must have a selfless, unwavering commitment to their community members with no investment in seeking personal recognition. In this case, Wentworth and her community members decided to seek it out for them.
Running from January 18 to February 17, Community Heroes in Portraiture is housed in the Project Space Gallery in SUNY Oneonta's Art Department and honors the unsung heroes of Otsego and Delaware County. Wentworth encourages both students and faculty to take this fleeting opportunity to experience the individuals who make a habit of serving others in their immediate community and go about their days unrecognized.