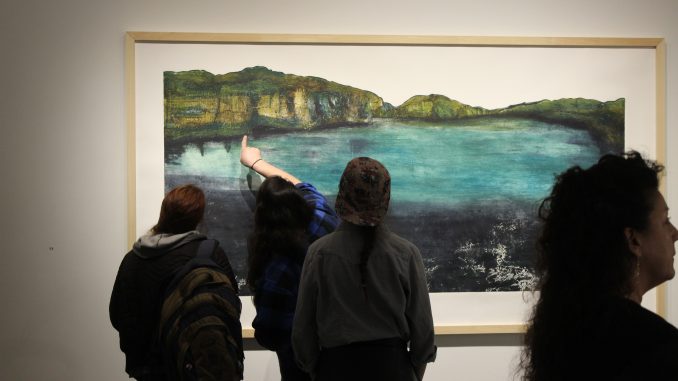 Derek Dimino, Staff Writer |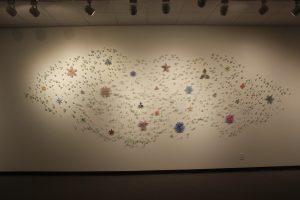 Artist and printmakers Jill Parisi and Alexandra Davis have collaborated to bring you a beautiful experience, guaranteed to bring you closer to the ground you live on and the sky at which you gaze upon at night.
Celestial-Terrestrial presents a beautiful perspective on our time on this earth. It forces the viewer to contemplate unity, not just as one species, but as one planet. The glimmer in the pictures is a reminder that everything that is, is nothing less than stardust, regardless of the form it currently occupies.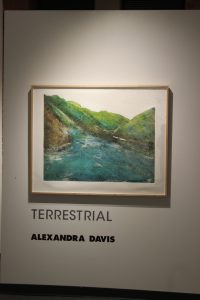 The experience of the artists takes many different medians in this exhibition, complementing one another's vision. Celestial-Terrestrial truly embodies the natural world by taking any given aspect of it and molding it into a beautiful presentation.
Many different artists and Japanese master paper makers have influenced Jill Parisi, but none influenced her as much as her curiosity for what could be made through printmaking. Parisi earned both her degrees from SUNY New Paltz in painting and printmaking, where she is now an Associate Professor.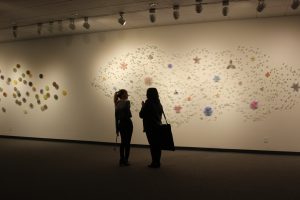 The intricacies of Parisi's art segments are life-like. From the flower petals dancing on the wall, to the asteroids building the sky, the viewer feels weightless within a whirlwind of color and shapes. Her interests in the botanical and zoological world lay the foundation for the theme found throughout her exhibit.
Alexandra Davis' experimental approach to printmaking has propelled her to the edges of what was common. Having graduated from SUNY New Paltz and Binghamton University, art and printmaking have been her focus for a long time. Davis currently is an art and printmaking professor at Binghamton University.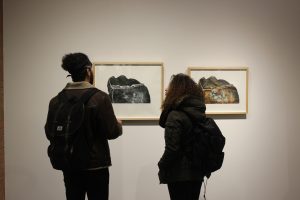 Davis' work captures an ancient aura. With her uses of earth tones and vibrant turquoise accents, you are transported to a sacred prehistoric time, which is quickly frozen before your eyes by the bold white contrast of the paper it lays upon.
The Celestial-Terrestrial exhibit is located in the Martin Mullen Art Gallery inside the SUNY Oneonta Fine Arts Center. It will be open free of charge Monday through Friday from 11 a.m. to 5 p.m. until March 17, 2017.