Nick Wetzel, Sports Editor
Miami Marlins ace pitcher José Fernández passed away this past Sunday, September 25, in a boating accident. He was 24-years-old.
The US Coast Guard investigated the wreck which was off the shore of Miami Beach. They said that Fernández and two other men, Miami residents Emilio Macias, 27, and Eduardo Rivero, 25, were on the 32-foot boat that crashed into the rocks on the shore around 3 a.m. All three individuals were confirmed dead. The Coast Guard said speed appeared to be a factor and that they found no sign of alcohol or drugs in the wreckage. They also announced none of the three men were wearing life vests.
Fernández was in his fourth season with the Miami Marlins. He was their first round draft pick in the 2011 MLB draft and won Rookie of the Year in 2013. He was also a two-time All-Star. In 76 career starts, he was 38-17 with a 2.58 ERA.
Fernández, a Cuban national, was 15 when he immigrated to the United States in 2008 after three previous failed attempts, and he became a United States citizen last year. The star pitcher had just announced on Instagram last week that his girlfriend is pregnant. The Marlins stated at a press conference Sunday afternoon that the baby is a girl. The Marlins also announced that they were providing buses to take players to the home of Fernández's mother so they can give their condolences. The commissioner of the MLB, Rob Manfred, had every game on Sunday begin with a moment of silence to honor Fernández.
Players from around the league told heartfelt stories and gave their condolences on social media. Several Marlins players and Marlins manager, Don Mattingly, broke down during the press conference when describing the kind of player that Fernández was. Mattingly said Fernández played with the "joy" of a "little boy." The Marlins players all wore Fernández's number 16 jersey against the New York Mets on Monday night. Jeffrey Loria, the owner of the Marlins, said he has thought about retiring Fernández's number. "Nobody else is wearing that number. I can tell you that."
Fernández is survived by his mother, grandmother, girlfriend, and unborn daughter.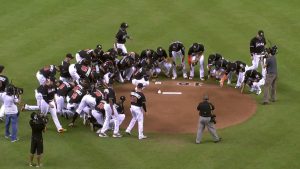 Marlins players writing "16" in the pitcher's mound. Courtesy @Jared_Carrabis