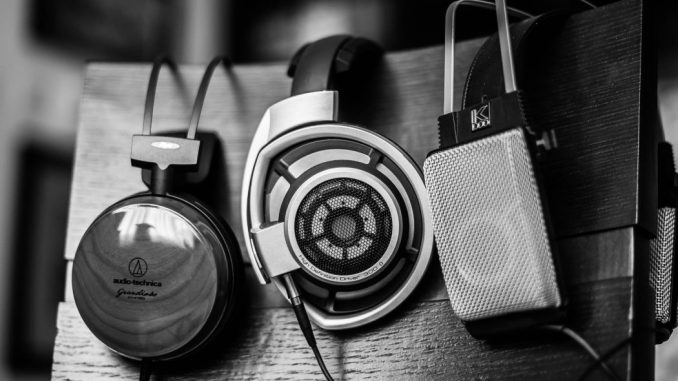 Ashley Parent, Arts Editor
It's no secret that the heyday of the recording industry has come and gone. Consumers kissed the days of shopping for music in person goodbye five years ago. What's the point if we now have catch-all devices that do the trick without even having to leave the couch?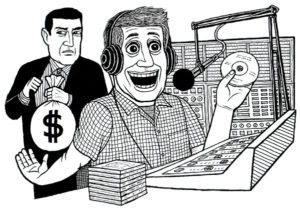 Let's consider the playlist format. The term "playlist" dates back to the dawn of Top-40 radio. Now, as it was then, radio playlists are pre-determined lists of songs to be played on air. Such playlists are very limited, an attribution to the rampant payola within the broadcast industry. Payola worked like this: if you were a disc jockey, you accepted the bribes offered by record companies, playing their artists to avoid the chopping block.
The playlist today is a blend of the grim picture painted above and the mixtapes our parents passed around years ago. Playlists were an easy form of expression on early social media sites like Myspace in the mid 2000s.
Today, social media is more separated yet integrated — simply hit "Share" on Spotify and it will post to other social accounts.
A new study conducted by Lots of Online People (LOOP) provides further insight on the rise of the playlist. Published September 22 on musicbiz.org, LOOP's May 2016 survey of 3,014 people showed that music lovers spend more time listening to playlists than albums. They found that playlists account for 31 percent of total listening time, while albums occupy 22 percent of total listening time. It's no surprise that singles are included in with the majority 46 percent of listening time, but that figure is down six percent from last year's 52 percent.
LOOP's findings correlate well with the continual rise of streaming platforms as the primary method of music consumption.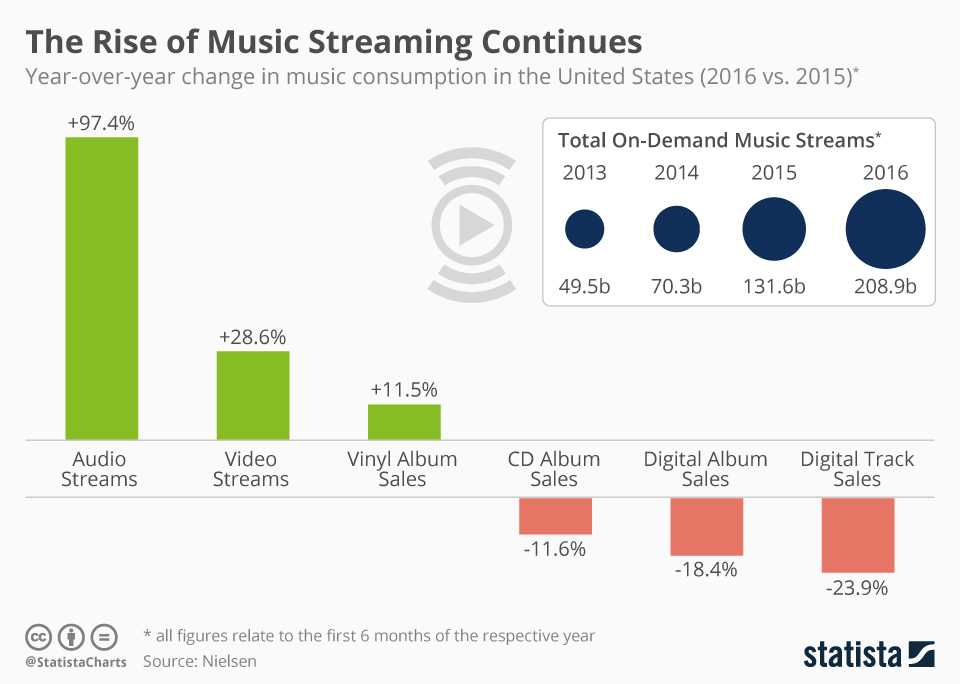 In a multi-billion dollar industry, streaming giants only have a few ways to differentiate themselves from their competition. In essence, the best way to distinguish themselves is through exclusive content and curated playlists. Streaming platforms promote their playlists on the forefront of their sites and elsewhere online. These playlists might be created by a home or third party creator (Digster, Filtr).
But the real power is in the hand of site subscribers, the tastemakers who put together playlists and catch the attention of thousands after simply clicking the "Share" button. Such playlists have the potential of helping undiscovered talent enter their chosen field. For a really hot independent playlist curator, crafting banger playlists could lead to an editorial staff career with a streaming giant as a playlist-building "expert." Finding such talent to make exclusive playlists could mean more subscribers for Spotify, Apple Music, and the like. For an artist, being featured on a tastemaker's playlist could mean more song streams, which puts more money in their pocket and even a record deal in hand.
Playlists also provide the chance for music lovers to put a personal touch on the discographies they worship. Anybody can make a playlist — it is easy to create the perfect soundtrack to your workout in just a few minutes. All of your favorite tunes are at reach with playlists, even if you don't shell out money for a full subscription. LOOP's survey found that 42 percent of respondents were happy with ad-supported freemium tiers.
Record companies must become mindful of these trends as well as the attitudes of their consumers and constituents. Fans of many dance-related genres do not demand albums from their favorite artists, but
instead are content with frequent singles, remixes, and touring. Pop artists like The Chainsmokers and Calvin Harris have weighed in on the album medium, focusing their energy on releasing the next big hit instead of a full-length record. As opposed to investing in full-length albums that will not be listened to head-to-toe, let alone purchased, labels and their artists might benefit from embracing this "new normal" in music consumption.
But there is an argument for the sake of the endangered album medium as an art form. People forget that the artist makes an album in hopes that people experience it cover-to-cover as a record. They handpicked the songs in a particular order and hope listeners appreciate the overall flow of their hard work. It's not all about the money for some artists—it's the expression.
Music listeners might only hope that the whole intentions behind an album will never get lost as labels try to play catch-up in the world of streaming.