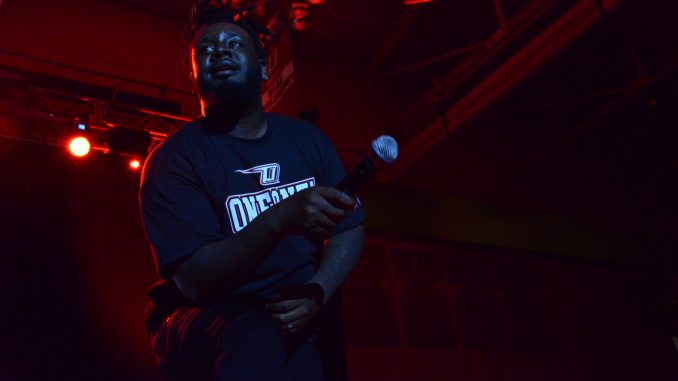 Adia Watts, Editor-in-Chief
SUNY Oneonta's annual fall concert debuted this past Saturday to a packed Dewar Arena.
The first act of the night was student artist Darkecy, also known as Denis Muganza. Muganza is no newcomer to performing on the Dewar Arena stage. He also opened at the fall concert for Big Sean back in 2014 as a part of the Oneonta Hip Hop Collective (OHHC).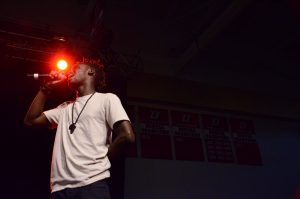 Last Saturday, however, Muganza was on stage as a solo artist. With the help of his backup dancers and DJ Omsign, Muganza performed original songs such as "Summertime" and "Oneonta," an anthem for the city he's grown to love.
Following Darkecy's spirited performance of stage-diving and crowd-surfing, an unrecognizable Asher Roth took the stage to showcase some of his new songs as well as an old favorite. Roth, now with long hair, has created countless singles and collaborations since his musical debut. But none have been as popular as his 2009 hit "I Love College," which he rapped to the fitting audience of college students on Saturday night.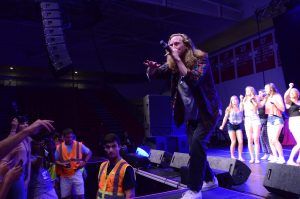 Much like Darkecy, Roth also decided to test his ability to fly by stage-diving into the crowd, not once, but three times. He also invited the ladies in the crowd to come join him on stage and be his impromptu backup dancers. The invitation incited chaos as girls climbed over barricades and up speakers in order to make their way on stage. However, the disorder never swayed Roth from his ultimate goal of having a good time.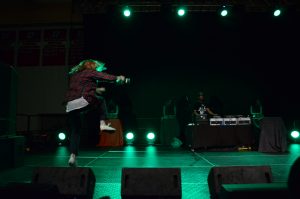 In fact, to make the concert even m ore interesting, Roth told the audience to split their cluster down the middle in order to make way for a spontaneous Soul Train line. He also encouraged people to put their friends on their shoulders, which is extremely frowned upon and prohibited by event staff. Rule-breaking or not, Roth's set was the perfect appetizer for the main act of the night, T-Pain.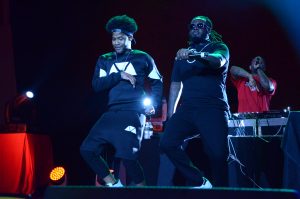 Donned in a black tee, blinged-out necklace, and icy watch, T-Pain ascended the stairs to the Dewar Arena stage around 9 pm. He serenaded the audience with his greatest hits including "Can't Believe It," "I'm N Luv (Wit a Stripper)," and "Bartender." Mid-way through the performance, T-Pain and his hype man Courtney James removed their original outfits and flashy jewelry to change into SUNY Oneonta t-shirts. The audience went wild.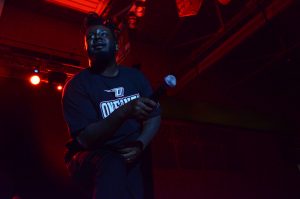 T-Pain continued his set with more of his many hits, but then changed the tune in between long pauses and dance breaks. Towards the end of the show, he began to freestyle and slow down the momentum in order to bring the show to a close.
Due to some recent tragic family issues, T-Pain did not grant anyone an interview following the show. However, he did make an appearance at Jimmy T's, one of Oneonta's more popular bars. He tweeted this to let his fans know where he would be: "I'm at #JimmyTs it there [sic] opening night since the summer. Let's fill this bitch up #Oneonta make papa proud lol. Where y'all at."
Being the small town that it is, news spread fast around Oneonta about T-Pain's whereabouts, and Jimmy T's was instantly packed with fans wanting to get a closer glimpse of the night's headliner.
Although photos and speaking to T-Pain were prohibited at the bar, students were still very much excited that he was there.