Averi Amsterdam, Staff Writer
With the semester coming to a close, the stress of final exams and assignments can easily make you feel overwhelmed. The nicer weather and talk of summer plans makes it increasingly difficult to complete schoolwork. While it is much easier to lock yourself up in the library as a last resort effort to keep your GPA from a downward spiral, taking breaks to spend time adventuring with your friends before summer break is important as well.
The town of Oneonta and Otsego County are filled with plenty of sites and attractions to adventure to with friends. Not having a car isn't an issue either! There are plenty of things to do accessible by foot or bus to give you a change of scenery.
Table Rock and Strawberry Fields
Almost every Oneonta student has heard about Table Rock. Located on Hartwick's campus, this relatively short trail has a beautiful view looking over the town of Oneonta once at the top. For the ambitious type, the hike can start from here on campus, walking to Hartwick, and up to Table Rock, but there are also several places to park on Hartwick's campus to make the hike a little easier. If you're looking for a change of scenery, Strawberry Fields is another trail whose entrance is located right across from the beginning of the trail to Table Rock.
Wilber Park
With easy access from the bus, this park is complete with scenic walking trails and plenty of tables for picnics. If you're insistent on not having enough time to take a break from studying and final assignments, the park has some picnic tables in quieter areas that are perfect for studying. Instead of bringing your work to Hunt Union Pond, change it up and bring it downtown!
College Camp
This gem is something many of us forget we can visit. As SUNY Oneonta students, we have the pleasure of having access to College Camp. Accessible either by foot or by short drive, the facilities are filled with hiking trails, a beautiful lake, and even a lodge that is available for students to rent.
Gilbert Lake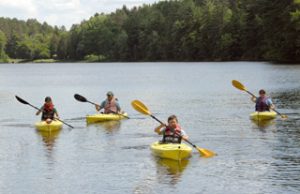 An easy 20-minute drive will bring you to Gilbert Lake. The calming atmosphere of the outdoors is perfect for relieving the end of semester stress. Whether you want to relax on the beach overlooking the lake or take advantage of one of their several hiking trails, this NY State Park has it all.
Canoe & Kayak Rentals and Sales
Located on Route 28 and opening for their summer season next week, there is a place you can rent a canoe, kayak, or paddle board to enjoy the views of the Susquehanna River and Goodyear Lake. With several places to stop along the way, you can pack a picnic lunch to refuel as you paddle through the river. If the weather and water is warm enough, you can also hop in for a swim to refresh.
As the spring semester comes to a close, it is easy to make up excuses as to why you don't have the time to get off campus and explore what else Oneonta and Otsego County has to offer outside of your normal routine. These five adventures are just a few of the several different sites and attractions available.