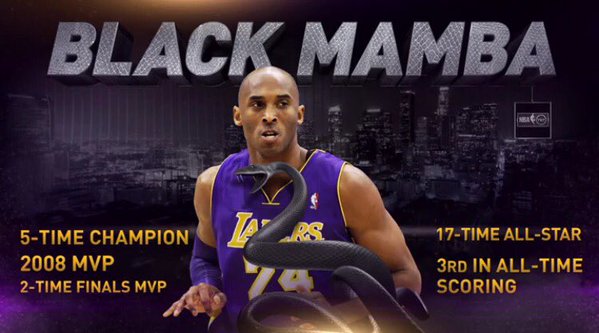 Nick Wetzel, Contributing Writer
Who else but Kobe Bean Bryant could score 60 points in his final game? We're talking about a guy who tore his Achilles and still stayed on the court to shoot his free throws, so this really shouldn't come as a surprise. And yes, I do realize that he took 50 shots to get those 60 points, but I'm going to ignore that because it was #MambaDay. The only guy I wanted to see shooting was the Black Mamba.
The NBA and all its fans got one last great moment out of a man who made great moments seem commonplace. He was an 18-time All-Star, 15-time All-NBA, 12-time All-Defense, 2008 MVP, five-time champion, two-time Finals MVP, and he led the league in scoring twice. There were so many fantastic games in his career that it'd take forever to list them all. A few I have to mention are his outscoring of the Dallas Mavericks through 3 quarters in 2005, the night he set the record for three-pointers made in a game with 12 against the Supersonics in 2003, and of course the 81-point game against the Raptors in 2006.
Kobe isn't just someone with natural talent either. He was one of the hungriest guys in all of sports. He lived for the game. He was also an incredible student of the game, always watching film to learn his opponents' favorite moves. Kobe also was a great thief. He stole the best moves from some of the greatest players of all time; he took Oscar Robertson's pump fake, Jerry West's release, Jordan's fade, Hakeem's "Dream Shake," and Bill Russell's rope-a-dope. He knew that all of these moves would make him almost un-guardable, which he seemed to be most nights.
He is also much more than a basketball player. In Los Angeles, he's almost a deity to the Laker fans and non-Laker fans alike. He is the source of joy, happiness, inspiration, and determination for them. It's not just L.A. either, as cities he was playing in for the final time cheered for him more than they cheered for their own team. Even other NBA players, some of whom are among the best in the league, would ask him for autographs as if they were eight-year olds at their first ballgame. Kobe has also done his part in these situations, gifting free pairs of sneakers to some of his favorite players and fiercest competitors. He gave Tony Allen a pair of sneakers with his autograph and called Allen "the best defender I've ever faced." He also gave Chris Paul, once almost a Kobe teammate, a pair that mentioned how great of a competitor he was.
As hard as it's been watching him play on such terrible teams these past few years, it will be even harder not watching him play. He's been a fixture at or near the top of the league for so long and with the same team for so long. That kind of longevity is just so uncommon. Seeing greats past their primes with teams other than the ones they performed magical things with is so ugly that it generally hurts to watch. At least with Kobe, we never had that. Like I said, these Laker teams of recent years have been putrid, but I'd rather see Kobe be on this team than some other team at the end of his career. It makes it much more special, just like Derek Jeter's career with the Yankees. And like Jeter, Kobe went out in his last game and made magic happen one more time.