Tracey Cheek, Arts Editor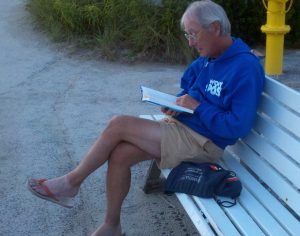 Tracey Cheek: What is the name of your show?
David Ring: Roots and Branches.
TC: When is your show?
DR: Monday 8 – 10 a.m.
TC: How did you get involved with WONY?
DR: One of my students, who was a WONY DJ, was going to do a show of faculty requests and sent me a note asking for some songs I would like played. I'd been on the radio in Colorado the previous summer with a friend who'd been a WONY DJ and really enjoyed it. So in addition to my requests, I asked my student if it would be possible to get a show. Early in the spring of 1996, I heard [that] it would be possible, but she was going to train me. So that spring, the roles of teacher and student were reversed. I had my first [show] in the fall of 1996 from 5 – 8 a.m.
TC: Are there any other WONY shows that you are a big fan of?
DR: I love Uncle Bill's Morning Variety, which follows mine. I also loved Matt Bluzer's show of jazz tunes. Unfortunately, he's not doing it this semester.
TC: What genre of music is your show?
DR: I play anything that has its roots in the blues or Celtic music. So I play country, bluegrass, blues, and other music for uplifting gormandizers (that's where CBGB-OMFUG comes from), which includes folk, jazz, soul, rhythm and blues, roots rock, and on occasion, show tunes.
TC: What are your favorite songs to play on the radio?
DR: Some of my favorite artists are Bob Dylan, Diana Krall, Joni Mitchell, Bonnie Raitt, The Bird and the Bee, Lake Street Dive, the Dead, Dusty Springfield, Otis Redding, Marvin Gaye, Tammi Terrell, Bill Monroe, Sam Bush, and the list could go on for the rest of the space available in The State Times for the rest of the semester.
TC: Why should people tune into your WONY show?
DR: Because people need something to get them up and going first thing on a Monday morning.