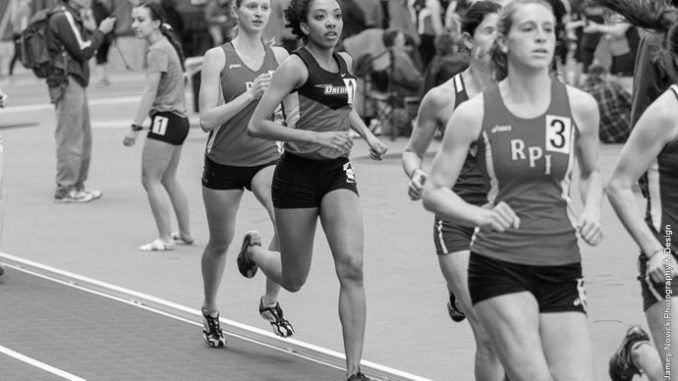 Erik Bascome, Sports Editor
This past weekend in Brockport, SUNY Oneonta Women's Track and Field made history by claiming their first ever SUNYAC Championship. Oneonta narrowly defeated Geneseo by just 4.5 points, 142.5 – 138, taking home five individual and one relay conference title. It was a thrilling contest that came down to the last competition of the day, the 4×400-meter relay.
Oneonta's relay group included junior Rachel Shine, sophomore Kerianne Engesser, and freshmen Lauren Bower and Alicia Donaldson. Trailing around the final turn, Shine began gaining on the Geneseo runner over the home-stretch and won the event by just six one-hundredths-of-a-second, giving the Red Dragons their first SUNYAC crown.
Shine also claimed two individual titles in the mile and the 800 meters, setting meet records along the way with times of 4:58:52 and 2:13:50, respectively.
Donaldson won an individual title in the 60-meter hurdles and set a school record with a time of 9.18 seconds in her first SUNYAC Championship appearance.
Sophomore Kayla Clohessy claimed the long jump title and set a new school record of 5.77 meters.
Oneonta's final individual title went to junior Meghan Serdock who won the weight tossing competition.
After a well-deserved celebration, the women will begin preparing for the NCAA championship two weeks from now in Grinnell, Iowa.