On Monday, November 9, I had the pleasure of sitting down with Boketto before they took the stage at the Black Oak Tavern as the opener for Space Carnival. Boketto was formerly Dr. Joseph Pignato of the Music Department's class Jam Band, a recognized ensemble that offers credits. Dr. Pignato is on sabbatical this semester, but the band has worked on their own to refine and improve upon their sound that he helped to craft.
Boketto is simply a band that loves to play together.  There are seven members, which is not uncommon for a jam band, including Ben Rudolph on drums, Kellie Levens on the keyboard, Chrissy Garcia and Xiolynn DelaRosa as vocalists, Matt Coonan as the band's MC, Lana Migliore on guitar, and Justin "Smurf" Farrar on bass. Each member works together to influence one another and were a gem to behold as soon as they hit the stage.
The name Boketto is a Japanese word that essentially means to stare aimlessly at a scene and be unable to put words to the feelings it instills. Boketto is a group that exudes good vibes and impressive musicianship. The band is self-described as a "prog-hop" band, short for progressive jam funk with a hip-hop flair. After giving them a listen, it's difficult to place them exclusively within any genre — their music transcends categorical boundaries in music and is pleasing to even the most one-track-mind listener.
The group feels that each member inspires one another in writing as well as on-stage, but they all look to a wide scope of artists for further genius. Coonan spits out rhymes with respect to Kendrick Lamar and Andre 3000, whereas Garcia writes lyrics provoked by the hard rock band Rush. DelaRosa prefers more organic sounding acts and looks to Lauryn Hill in her vocal stylizations, while Levens loves the alternative sound of Radiohead and the key tapping in Zero 7. As a jam band, they all flock to Lotus and Snarky Puppy according to Farrar and Migliore, and Rudolph listens to everything from prog-metal to hip-hop.
Boketto is a unique act to experience because they surpass any and all expectations for a college jam band. With Dr. Pignato, the group learned how to structure themselves, how to make the most out of rehearsals, and how to work together as a band and as united musicians. This year Boketto has polished their sound and added members DelaRosa and Farrar to give a boost to the band. Right now the band is earning no school credits for their work but hope to take Jam Band next semester with Dr. Pignato when he returns.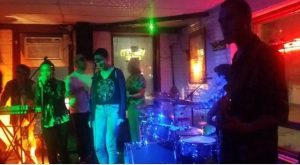 From an audience member's perspective, it is difficult to tell that Boketto is some of the members' first band experience. Each musician plays integrally while continuously elaborating on a personal signature motif within each piece. Every person in this band is talented andshined in their own way throughout the night. Levens' piano playing was the backbone to each song and my favorite part to follow, and DelaRosa and Garcia's singing evoked intense emotion from myself as their vocal strength and lyrics were nowhere near bubblegum. Coonan worked to rile up the crowd with his honest and brash rap stylizations, and you could see that Rudolph, Migliore, and Farrar bounced off one another to deliver Boketto's art.
The atmosphere at the Oak was both one of a bohemian dance party and a family reunion. Boketto's fans seemed to revere the band, they were all friendly with one another, and everyone was grooving. Boketto is more than a bar band, and I could see them playing a modern day Woodstock festival. That's not to say that one must be "under the influence" to enjoy the Boketto experience — they are sublime and bring the listener to an elevated level when chemically sober. I most enjoyed how each song blended into one another, and that is a goal of Boketto in the future — they create music that is transcendent, flowy, and with smooth transitions. I believe Boketto can achieve whatever they put their mind to, and will continue to impress those who come to hear them play.
Boketto does not yet have any social media accounts, but you can check out a couple of their songs by going on Soundcloud and searching Boketto. Migliore produces and mixes the songs, and they promise there are more to come as they are in the process of writing new songs.
Go see Boketto Thursday, December 3 at the Black Oak playing with Darkecy and Rumble Strips, brought to you by Dr. Robert Roman's Concert Production class!