Cheyenne Dorsagno, Copy Editor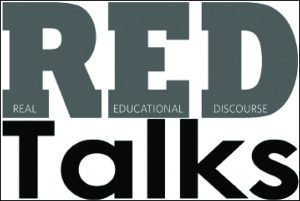 SUNY Oneonta's third Real Educational Discourse (RED) Talk asked its faculty and students to think critically about the value of "A Liberal Arts Foundation". On November 2 at the Hunt Union Waterfront, host Dr. Eileen Morgan-Zayachek introduced three consecutive presentations conducted by beloved SUNY professors. The first, "Should I Have Stopped at Preschool?" was staged by Professor Craig Bielert, Chair of the Psychology Department. He explained that outside of the United States and Europe, a liberal arts education is not highly valued, even though the U.S. has wavered in its position.
Bielert argued that if people held onto the skills that they learned as a child in preschool, then they would be well equipped for life; lessons such as share everything, play fair, say sorry when you hurt someone, work, play, nap, hold hands, have wonder, and everyone dies. Henry Ford and Simon Cowell, after all, never obtained a college degree. However, Bielert cited that those with a Bachelor of Arts make 98 percent more per hour than those without and that not going to college can, on average, actually cost someone $500,000. The pursuit for a college degree is becoming extremely common among the up-and-coming generations, so much so that it will practically be a prerequisite for work.
Bielert described someone with a liberal arts education as being well-rounded in a range of disciplines from fine arts to the physical sciences in a way which emphasizes critical thinking and analytical skills. These academic skills, on the other hand, are not truly well-rounded in the sense that they do not teach imagination, emotional intelligence, kindness, and curiosity. In Finland, children spend most of their time learning by playing. These students continually achieve some of the highest scores in the PISA survey, which tests 15-year-olds in different countries on their competency in reading, math, and science. Bielert mused that without experiencing something joyfully, it will be easily forgotten.
Achim Koeddermann, Associate Professor of Philosophy, led the second segment of the discussion, entitled "Where Do I Look for Help When I Am Lost?" He encouraged autonomous, abstract thinking which may even dare to doubt authority. "Wake up!" Koeddermann screamed as he threw an apple into the crowd. He explained that we study liberal arts because we're lost, we can't predict the future, and out of the widespread fear that we may be condemned to ending up like our parents.
In the spirit of advancement, freshmen begin what Koeddermann described as four years of freedom. This communal environment is ideal because communication is needed to solve problems and a liberal arts education cannot be complete without awe, play, and inspiration. He portrayed the ladder of knowledge as one that leads nowhere.
"Get lost! That's freedom!" he exclaimed, "Know yourself and know that you don't."
Through the metaphor of whirling dervishes, Koeddermann explained that we need to "orient ourselves in a more and more complex reality." He elaborated that the liberal arts must be centered alone but with careful doubt among a civil community. Furthermore, it's okay to get dizzy and be happy, to have a philosophical conversation with strangers, or even skip class for once and watch the leaves fall.
"That for the Sake of Which… Liberal Arts as Foundation for What Comes After, 'After'" was the final segment of the RED talk led by Joseph Pignato, Associate Professor in the Department of Music. Aristotle's concept "that for the sake of which" helped this presenter to question the end to the means of a liberal arts degree.
"Things, actions, and endeavors are never simple," Pignato stated as he stood in front of a virtual hammer. Everything is for a greater purpose; this object enables the action of hammering a nail which can produce not only a house but eventually a home and lifestyle. Education is like the hammer in that we obtain it "for reasons that transcend their immediate value." Many students see getting a job as the use of a college degree, of the object, but it, like the completion of the house, is only a short term goal; the long term goal in which the house becomes a home is synonymously the final form when the full potential of one's degree has unfolded.
Students often ask Pignato, "What will I do after college?" This concern is usually limited to an "after" in which one is simply doing — completing a degree and starting a career. But there is another, successive "after" in which one has become more fully themselves by use of their unique magic formula in navigating through the liberal arts.