Adia Watts, Editor-In-Chief
Stemming from the Australian slang for moustache, the "mo" gained its momentum as the symbol for men's health in 2003 when two friends, Travis Garone and Luke Slattery, decided to try to bring the moustache back in style. Another "mo bro," Adam Garone, created a website and registered the Movember Foundation in 2004. By this time, the group had raised $40,851 that they donated to the Prostate Cancer Foundation of Australia (PCFA).
Currently, 21 countries participate in Movember, or "No Shave November" as it is sometimes called in the U.S. The foundation has raised $649 million since 2003 to fund over 1,000 programs focusing on men's mental and physical health and they are still going strong.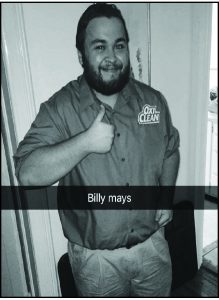 To get involved in Movember, go to the foundation's website and follow the three easy steps: sign up with a clean shaven face, grow your moustache (or beard) over the 30 days of Movember, raise funds and awareness for men's health.
The movement is not only for men, though. If you don't identify as a man, can't grow facial hair, or both, the Movember Foundation also has a Move challenge. With this challenge, you take the pledge to be active for all 30 days of Movember and raise awareness for the cause (but I don't see why you shouldn't grow out your hair in other places too).
Although the challenge began on November 1, it's never too late to get involved. Head over to us.movember.com to sign up now.
And as for the best Mo Bros of The State Times, the accolades go to Erik Bascome and Alex Park, Sports Editor and Managing Editor of our newspaper.