Rebecca Pollard, Culture Editor
On Thursday, September 24, a small crowd gathered to hear Haran Yaffe talk about his road to rehabilitation: Its challenges, and all that he's gained from it. Hayley Rosenfeld, a junior at SUNY Oneonta, organized the event, "Music Speaks," through a non-profit called StandWithUS. Their mission is to educate people all around the world about Israel and gain international support on its road to peace.
Yaffe didn't have to speak to the audience for very long before making every person's jaw in the room drop. While serving in the Israeli Defense Force (IDF), Yaffe came close to death. So close, in fact, that when his parents were called to identify him as he was lying in a ten day coma, he was so badly battered that they could not say for sure if it was even their son. Miraculously, Yaffe did eventually wake up. However, he woke up with what he described as a beer-bottle sized hole through his lower intestine that went up through the middle of his stomach. These immense, near-fatal injuries were caused when a missile hit the tank he was in, causing the vehicle to violently crash. The doctors informed him when he woke up that he was incredibly lucky to have survived, but his chances of ever walking again were close to none.
Yaffe did not accept the fate that the doctors had told him; he said, "It wasn't enough to be alive. I didn't want to become a breathing thing on a bed."
To prove to the doctors that he would leave the hospital eventually, he crawled out of his bed and down the hall, leaving a trail of blood before allowing his caretakers to bring him back to bed. Although his process was slow and gradual, Yaffe was able to use his legs again. Not only did he make a full recovery, he decided to take life by the horns and live to the absolute fullest. Yaffe got "Alive" tattooed on his upper arm before pursuing every extreme sport that could be thought of. His message to the audience that day was clear: Don't to wait to start living until you've nearly died.
"This life will depress the hell out of you," said Yaffe, "…don't let it. Keep doing what you love!" He encouraged the audience to not give up on life, on dreams, or on themselves.
His moving speech was followed by a sunset barbecue, which then turned into a concert. The band Naughty played first. Although the crowd at this point was slowly diminishing, they gave an amazing performance.
Yaffe gave an acoustic performance following them, which consisted mostly of original songs with just one cover of a song originally played by Pearl Jam. Yaffe's performance was very personalized. He decided against performing on the stage, and instead sung directly to the small audience.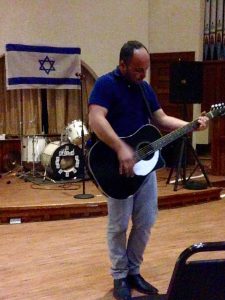 Before he came to Oneonta, he had been touring around the U.S., telling his inspirational story as well as performing. Yaffe plans to move back to Israel in the next few weeks, but also plans on continuing to tour. We were lucky to have seen him before he moved back and appreciate the time he had spent with us here at Oneonta!