Adjani Reed, Contributing Writer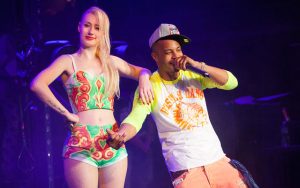 Both the hip-hop and pop worlds are encountering yet another falling out between two companions that we predicted to have a lasting relationship throughout the duration of their careers. Though this relationship cannot be declared a "beef" just yet, Iggy's (former) manager and Atlanta rapper, T.I., declared his disassociation from Iggy Azalea and her "team" in a recent interview on one of New York City's hip-hop radio stations, Hot 97. After this on-air announcement, the future of Azalea's success in the hip-hop and pop industries are put into question with some members of the hip-hop world stating the demise of her career is near.
Since the dawn of Iggy Azalea's mainstream success, T.I., known for hits including "Live Your Life" featuring Rihanna and his collaboration with Robin Thicke and Pharrell Williams on "Blurred Lines," backed the Australian music artist throughout accusations of racism and cultural appropriation.  Rapper, Azealia Banks, openly and repeatedly, expressed her disapproval with Azalea's success and popularity in pop and hip-hop cultures on multiple media outlets. Despite T.I.'s efforts to endorse Azalea and arguably "mentor" her in the past, ties may have severed on Hot 97's Ebro in the Morning Show where T.I. declared his relationship with Azalea has "taken a bit of a rest stop." When asked about his decision, the rapper referenced Azalea's exchange with seasoned rapper, Q-Tip, who sent Azalea over 40 tweets explaining the history of hip-hop after the peak of her and rapper Banks' Twitter feud during late 2014. As T.I. explained in the interview, his attempt to "smooth over things" between Azalea and Q-Tip was "undid" by her and her "team," propelling him to step away from "the world of Iggy Azalea."
Following T.I.'s on-air radio interview, Azalea tweeted her "blind sight" of their severed relationship, expressing the only time she "heard of [them] having an 'issue' is via a radio interview" as well as her distaste discovering the news. Since then, T.I. has yet to publicly respond to Azalea's tweets but the question of where the "Fancy" artist's career lies is to be determined.
For some passionate members within hip-hop culture, this disassociation is long overdue. Having been accused of stating arguably racist remarks in both past tweets and earlier singles (listen to the first few bars of her single, "D.R.U.G.S."), Azalea's downfall may come quicker than anticipated without the backing of T.I. In many ways, the Atlanta rapper helped pave the way for Azalea to receive the attention of tastemakers in the hip-hop world, including Hot 97, despite views of Azalea being an "imposter" (pay special attention to her "in-studio accent" and Australian accent that she switches up for her own purposes) or an appropriator of hip-hop culture. Without these appearances and co-signs, especially in urban radio stations and features in today's hip-hop music, Azalea will be forced to seek success in the music and entertainment industry elsewhere.
I, for one, impatiently waited to officially "chuck up the deuces" to Iggy as she exits the hip-hop industry. In the hip-hop industry, accepting an artist with questionable authenticity and understanding of the culture will always be unheard of. Therefore, we say good riddance to the forced, unnatural Southern accent that Azalea attempts to utilize when "rapping" in her songs. We say farewell to the appropriating of black culture for personal gain and benefit without internalizing and speaking up on issues that pertain to the members of that same culture. We shall also continue to side eye T.I. for encouraging these acts and this behavior in a society that is still impacted by racism. In the words of our beloved Sweet Brown, "Ain't nobody got time for that."
This disassociation is truly the answer to all the prayers of the individuals that respect and fight for hip-hop. Whether it be Jesus, Al'lah, Eazy-E, Notorious B.I.G., or whoever up there who granted our wishes, the underlying factor is simple: hip-hop is no longer allowing the culture to be tampered with and appropriated for corporate profit. #ByeFelicia