Astrid Ressler, Copy Editor
From 1991 until 2002, the African nation of Sierra Leone was torn apart by a dangerous civil war. Civilians and soldiers alike were brutally murdered as the rebel soldiers travelled across the country. Author Ishmael Beah describes in his book "A Long Way Gone: Memoirs of a Boy Soldier" how this civil war affected him, his family and friends, and his small, rural town during this time of extreme turmoil for his country.
Beah was thrown into the center of the war to fight for the Sierra Leonean government at the young age of 13. He writes in his book that child soldiers were not uncommon on both sides of this conflict, especially closer to the end of the war. He lost his mother and father when the rebels took over his town. He and his brother escaped, but Beah ultimately lost his brother to the war as well.
"A Long Way Gone" was selected this term to be SUNY Oneonta's Common Read (Come On, Read!) book. Free copies of this novel were given to all incoming freshmen this fall. The book is also available for purchase on campus in the Red Dragon Outfitters and in town at the Green Toad Bookstore.
Beah came to Dewar Arena on campus to talk with students for a few hours about his experiences and his book, and to have audience members ask him questions.
Questions ranged from the serious to the silly, going so far as a student asking what Beah's favorite food was. "Cassava and fish," he answered, but only if his grandmother has cooked it. He said that he tried to make it for himself before, and that it was not the same dish at all. The student who asked him the question then recommended Tino's Pizza downtown as an Oneonta dish that he should try. With a laugh, Beah said that he would.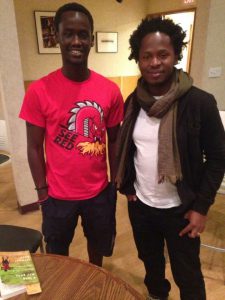 Music Industry student, Denis Muganza, who was born in Rwanda, took to the microphone to ask Beah, "When are we getting a movie for this wonderful book?"
With a big smile appearing on his face, Ishmael Beah responded, "I don't want a story where someone comes to save us."
He explained how so many movies that are set in Africa always tend to end with Americans or the British coming in at the last minute of the film to save all of the African people in a big heroic gesture.
"I don't want a film that makes us look helpless. We saved ourselves," he continued with his answer, "So if it never gets made into a film like that, then so be it."
This book is, to Beah, his childhood memories, his account of how he became who he is after being turned into someone that he didn't want to be. He overcame so much and fought off his worst nightmares even after he left the war torn country. It is only natural then that he would want any movie that may come from his novel to be as accurate and true-to-life as his book is.
In the conclusion of his speech, Ishmael Beah addressed all of the students in the arena to remind them just how lucky they are to be able to work towards and earn a higher education, to have hot water come out of a faucet in their homes, and even something so small as to be able to fill a suitcase with items that belong to you. Most importantly though, he stressed to, "use your privilege, and do something great in this world."