Danielle Sannuti, Staff Writer
The hills of Oneonta echoed with chants of men and women marching together to take back the night on Thursday, April 16. Opportunities for Otsego Violence Intervention Program (VIP), SUNY Oneonta, Hartwick College and Family Planning of South Central New York came together at the steps of Milne Library to support this important initiative for women.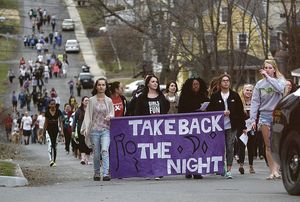 "Taking Back the Night is so necessary to get awareness of sexual assault out there. So many students here and people in general don't know what constitutes consent, assault, rape and so on," said SUNY Oneonta junior Kaela Mitchell.
This march has been bringing communities together for over 30 years, encouraging people to speak out against sexual violence. The organizers of this event hoped to bring awareness of sexual violence to Oneonta in an effort to make the streets safer for women.
At the steps of the library on SUNY Oneonta's campus, supporters listened to health educator Rebecca Harrington educate them about sexual violence. "Consent is not rocket science," said Harrington, touching upon one of the most important issues surrounding sexual abuse.
Harrington gave an example on how she taught her child to ask for consent when playing with friends. She says that consent is a no-brainer, so it should be simple when associating it with sexual partners.
"Know how to support survivors, know how to access help, know your community resources." This string of advice urged the audience to display what they stand for and understand how to stop the violence.
Elliot Ruggles, Director of SUNY Oneonta's Gender and Sexuality Resource Center, addressed the men in the audience shortly after. Following the theme of accountability, he urged men to be aware of sexist jokes and the objectification of women. "Most men stay silent…Do more, say something," he said.
After the opening ceremony, members of the VIP program proudly held the banner while supporters trailed behind, chanting through campus, "We are women, we are men. Together we fight, to take back the night!"
After marching down the Deer Path to Hartwick Campus, marchers were introduced to a brave student who survived a verbally, physically and sexually abusive relationship. Heather Sims stood courageously in front of the crowd sharing her story, hoping to induce change. Informing those in attendance about the countless acts of violence her first boyfriend committed against her, the heavy silence ensured that the audience understood that this could happen to anyone.
The march continued downtown to the Kim Muller Plaza on Main Street, with voices chanting in unison. The crowd came together for a candlelight vigil where Nicole Murdocca, an educator with Opportunities for Ostego's Violence Intervention Program, spoke on behalf of victims who were not able to tell the stories of their abuses.
Tifanne Wells, one of the victims mentioned, was a local women who lost her life to domestic abuse in March 2015. Students and community members circled around luminaries during a moment of silence in remembrance of these victims and other individuals.
After members of SUNY Oneonta's a cappella group Hooked on Tonics serenaded the crowd, students had time to reflect on their experiences.
"I thought that it was a great turnout and it was amazing to see so many people brought together to fight against something that affects women every day," commented SUNY Oneonta sophomore Zoe Gale. She continued, "The Violence Protection program, among others, put a lot of work into organizing this event and I'm sure it was very rewarding to see all the men and women who showed up to support this great cause."