Marielle Genovesi, Arts Editor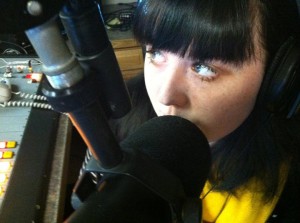 For those of you who are avid listeners [as we are at The State Times] of our student run radio station, WONY 90.9 FM, you may often find yourself wondering who belongs to the lovely voices coming out of your radio. We certainly do. So for the sake of WONY listeners on campus and around town, we give our readers a little one-on-one with the DJs of WONY 90.9 FM every week.
The State Times: What is the name of your show?
Jess Hudson: The Grab Bag with Jess!
ST: When do you usually DJ?
JH: I DJ every Thursday afternoon from 4-6 p.m.
ST:How did you get involved with WONY?
JH: I always knew WONY existed, and one day when we were freshmen, Becca Daly, our News Director, and I just stumbled into the office and started training. It's been amazing ever since and we now both serve on WONY's e-board!
ST: What is one great thing about WONY?
JH: The greatest thing about WONY is that it's an amazing space to share your thoughts and fully be yourself. WONY really taught me that I have a voice and ideas worth sharing. Also, I love the freedom of choosing my own playlist!
ST: Are there any other shows on WONY that you love listening to yourself?
JH: I like tuning in for Hip Hop Wednesdays!
ST: What genre of music do you usually play?
JH: I play indie rock with a smattering of oldies mixed in as well.
ST: What is unique about your segment?
JH: One of my favorite things to do on my show is spin vinyl.
ST: What are some of your favorite songs to play as of late?
JH: I am  absolutely love the new Death Cab for Cutie album, so if you tune in, you know I'll be spinning it!
ST: Why should students tune into WONY during your segment?
JH: You should tune into my show because I spin new music, old music, weird music, great music–it's a grab bag!