Marielle Genovesi, Arts Editor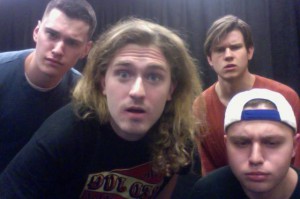 I recently interviewed local cover band "The Blankets," consisting of SUNY Oneonta seniors, Luke Nilsson, Adam Carey, Lenny Sadowsky and junior Jackson Beveridge.  These dudes are a bunch of fun and the kind of awesome and entertaining  band that makes the bar the best kind of rowdy.
I know that you guys are a relatively new band. When exactly did you get together as a band? Some background on everyone in the band and what they do.
Jackson Beveridge: Well it was a beautiful night and Luke and I climbed to the roof of the Fine Arts building and that's where he proposed to me.
Luke Nilsson: You're right. I said,"Jackson, will you be in my band?" But seriously though, I had an opportunity to play some shows and these guys were in past classes I've had.
JB: And I said "Yes" of course.
MG: Could you guys give me some background on on the band–what do all of you do?
JB: I'm  Jackson and I play bass for The Blankets.
Adam Carey: I'm Adam, a senior, and play the drums.
Lenny Sadowsky: I'm Lenny. I sing and hold the guitar while I sing sometimes.
LN: I'm Luke, I also hold and pretend to play the guitar as I try to sing.
MG: Where did you come up with the name "The Blankets?"
LS: I was talking to my cousin about how I was in a new cover band. So he said we should be called The Blankets…because we do covers.
MG: What kind of music do you typically play, are you aiming for one specific kind of sound?
AC: Country funk.
LS: Yea! That's a good answer. Girls love country and funk so.
LN: We try to play fan favorites that will get the people dancing and having a fun time. As for sound, we aim to sound good.
LS: Ah yes, The Blanket sound!
MG: What is the best part about working together as a band?
LN: I enjoy it because it's fun making music with your friends.
AC: The best part is when we all brush Luke's hair.
LN: That's very true.
LS: We all learn a lot from Jackson. He's a great musician.
LN: The free beer helps too.
MG:  Do you have any favorite songs to play?
JB & LN: "Sweet Home Alabama!"
 
MG: I know that you have played at The Red Jug a couple of times this semester, what do you like about playing a show in a bar, and are you planning on playing gigs in other parts of Oneonta or outside of Oneonta?
AC: We all know the answers to that one so lets say it together; 1. 2. 3. FREE BEER!
LN: I feel like we're The Beatles playing at the Cavern Club because it's small, loud and everyone is dancing.
LS: The Jug is where the home is.
LN: We're trying to play at The Garden.
AC: Yea but we're competing against Bieber right now so it's still in the air.
MG: What is the future looking like for you guys? Any plans?
AC: With the summer approaching, the wind is going to lift The Blankets away.
LN: Yeah, I think we'll turn into the towels for the summer.
LC: Anybody need a towel?
JB: Wait, you're all seniors?
AC: Yea, we're all seniors so we're graduating. Jackson will carry The Blanket tradition on.
Keep an eye out for The Blankets around town for the remainder of the spring 2015 semester. For all of you who are legal, The Blankets play a show this Thursday, April 16, at The Red Jug Pug starting at 10 p.m.