Cady Sharp-Kuzmich, Editor-in-Chief
Kirby Dick, the mind behind the groundbreaking documentary "The Invisible War" (2012), which put a spotlight on the crooked system by which the US military perpetuates a culture of sexual violence and intimidation in its ranks, has released his latest project, "The Hunting Ground," in select theatres and campus screenings across the nation.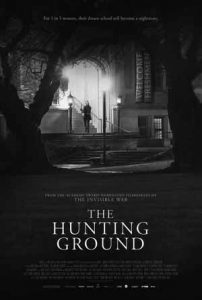 "The Hunting Ground," written/directed by Kirby Dick and produced by Amy Ziering, shines light on a side of college life that's often left in the shadows–sexual assault.
Thanks to SUNY Oneonta's Women and Gender Studies Department, specifically, Dr. Susan Bernardin, "The Hunting Ground" will be screening on SUNY Oneonta's campus Wednesday, April 22, at 7 p.m in the Craven Lounge.  After the screening there will be a facilitated discussion with Dr. Susan Turell, Dean of the School of Social Sciences, Tracey Ranieri, Director of Athletics, and Andrew Stammel, J.D., SUNY Oneonta's Affirmative Action/Title IX Officer.
Dr. Bernarding noted, "The Hunting Ground is currently being screened at hundreds of campuses across the country. This documentary spotlights rape culture on campuses and the endemic failure of many college administrations to properly respond to crimes of sexual violence. In this film survivors of sexual violence recount their inability to get justice for crimes committed against them."
According to Dr. Bernardin, the documentary focuses primarily on "six colleges in the country, including Florida State, Amherst College and University of North Carolina at Chapel Hill and addresses both fraternities and college athletics."
Bernardin added, "Too often, as we see in the films, colleges concerned with protecting its image or the status quo hinder, deny or suppress sexual assault claims. The film also addresses fear of reprisal and backlash that can hinder survivors from speaking out or pressing charges."
Dr. Bernardin made a point to note, "The film also focuses on the controversial efforts of some rape survivors to use Title 9, "a comprehensive federal law that prohibits discrimination on the basis of sex in any federally funded education program or activity," to compel colleges to change its investigative practices and approaches to sexual assault crimes on campuses."
While it's no secret sexual assault is an issue on college campuses, and many are probably familiar with the statistic "one in five women will be sexually assaulted during their college career," the survivors of sexual violence often feel silenced and alone.
Most cases of sexual assault remain unreported. According to the Rape, Abuse and Incest National Network, 68 percent of incidents go unreported. Putting aside the humiliation and pain survivors must confront in order to report their assaults, it's important to keep in mind the fact that few reported incidents result in prison time for the attacker. So, from the very beginning, sexual assault survivors have the odds stacked against them in terms of seeking justice for the wrongs committed against them. Now, add the pressure from universities for survivors to remain silent.
Dick interviews sexual assault survivors, exposes the corrupt practices of universities that have been covering up sexual assault cases and explores the impact this institutionalized silencing has on survivors of these vicious attacks.