Sarah Cottone, Contributing Writer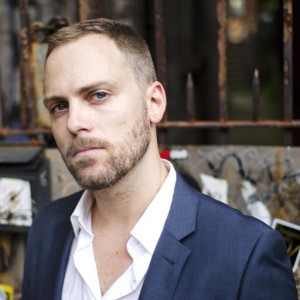 Chadwick Moore is a professional journalist in New York City where he writes for the New York Times, OUT magazine and The Advocate. After graduating in 2005 from the University of Iowa, known as the number one writing school in the United States, Moore began his career as a freelance journalist.
During Moore's talk on Wednesday evening, April 13, in the Red Dragon Theatre of Hunt Union, he shared his experience as a young writer relentlessly pitching stories to big name editors.
Like many new graduates, Moore had a difficult time after graduation. The Tennessee native moved to New York City with two bags and $900 in his pocket. He landed a crappy job and was  initially disheartened by rejection letters from editors. Just as his contempt for the publishing industry grew, Moore had an experience that led him to reclaim his passion for writing.
He was riding the subway home when he noticed the faces of people around him growing grim. While taking his headphones out he noticed everyone looking out the window and later learned that a woman fell into the tracks and was hit by the neighboring train. During this moment, Moore wanted to write not about what happened, but about the experiences of those who saw it; he realized he had a passion for writing about the way people live and their reactions to what happens in the world around them.
The majority of Moore's pieces are the result of his own ideas and not those prompted by a newspaper or magazine editor. Moore describes this freedom as one of the most positive aspects of freelancing. However, Moore explained the job can be unstable and that it is easy to become discouraged as a beginning writer. He continued by noting the most difficult part–rejection, not in the form of a "no" (Moore rates them second to a "yes'"), but when an editor ignores a pitch. However, during his time working as a freelance writer in New York City  Moore gained some valuable insight on what it takes to be successful:
1) Just keep doing it. Keep sending out your ideas. Do not stop sending your work to publishers just because others have rejected it.
2) Be concise. Don't send a 100 page e-mail explaining your accomplishments and what college you went to. They don't care about your background, they care about the story.
3) Do not be intimidated.
Finding stories constituted many of  the challenges early in Moore's career. He explains how stories aren't actually "found," but that they are "created." With enthusiasm, Moore explained how writing opportunities arose during his time spent in the bars of New York City. Some of his experiences include the discovery of a haunted restaurant and stories of a friend who worked as a phone-sex consultant. Moore also travelled to Russia on an assignment with Advocate Magazine to investigate how Putin's anti-gay propaganda bill was impacting the LGBTQ community in Russia.
Moore concluded, saying, "stories are a writer's taste and products of curiosity." Moore's writing is honest and to the point. He does not sensationalize, but seeks instead to tell a story.