Cheyenne Dorsagno, Staff Writer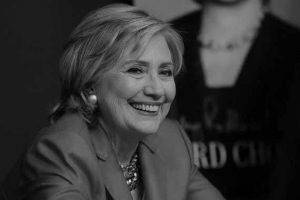 Hillary Clinton, 67, has officially announced that she will be running for the 2016 presidential election. She began her campaign with a video titled "Getting Started," which features middle class Americans talking about problems they face in their everyday life, such as starting a business, getting married, having a baby and retiring. Clinton made it a point to represent the diversity of Americans in her video by featuring an interracial couple, bilingual minorities, a gay couple, a lesbian couple and a single mother with her daughter. Clinton appeared much later in the video, saying, "I'm running for president" … "Everyday Americans need a champion and I want to be that champion so you can do more than just get by. So, I'm hitting the road to earn your vote because it's your time. And I hope you'll join me on this journey."
Clinton and Jeb Bush are undergoing a lot of speculation based on their affiliation with past presidents and how their history will reflect on the new candidates. Many expect that Clinton's presidency would be an extension of the Obama administration. Obama explained that she has been his friend, one that supported him in the general election and dealt with "really important foreign policy initiatives" under his presidency. He also said that she was an outstanding Secretary of State and would make an excellent president. Governor Andrew Cuomo has also announced his hopes for her victory.
Jeb Bush has already tweeted, "We must do better than Hillary. If you're committed to stopping her, add your name now." Though Clinton largely opposed George Bush's domestic policies, she did endorse the invasion of Iraq, later regretting her stance on the situation. Chairman Reince Priebus said, "Americans need a president they can trust and voters do not trust Hillary Clinton. Over decades as a Washington insider, Clinton has left a trail of secrecy, scandal and failed policies that can't be erased from voters' minds."
Under the Obama administration, Clinton has welcomed Obamacare and plans to reconstruct the immigration system, change the tax code, decrease the cost of college and encourage education before kindergarten. Clinton's four goals in her previous election were to restore America's global standing, rebuild America's middle class and the economy, reform our government and "reclaim the future for our children."
After the recent birth of her granddaughter Charlotte, Clinton stated in her memoir Hard Choices that she is "more convinced than ever that our future in the 21st century depends on our ability to ensure that a child born in the hills of Appalachia or the Mississippi Delta or the Rio Grande Valley grows up with the same shot at success that Charlotte will."
Clinton has been a long time voice on women's equality, popularizing the phrase "women's rights are human rights" during her initiative to create the Office of Global Women's Issues in 1994. Just like when Obama was running for president, there is a lot of debate on how much Clinton's chances will be helped by Americans' desire to make and witness history. After the first minority president, there is a lot of excitement about the possibility of having a woman in the White House.