Alex Hoysradt, Staff Writer
Before the MLB season gets in full swing, lets have some fun and predict who may take home some of baseball's most precious hardware.
AL Cy Young: Felix Hernandez, Starting Pitcher, Seattle Mariners
This award should have been "King Felix's" last season, but he shockingly lost to Corey Kluber. Hernandez had a spectacular season, keeping Seattle in playoff contention until the last day. Hernandez went 15-6 with a stingy 2.14 ERA, starting 34 games and hurling a whopping 236 innings to go along with a historic stretch in which he pitched 16 straight games of at least 7 innings pitched and allowing two or fewer runs. Still in his prime, Hernandez looks to build on a strong 2014 with an improved Mariners offense that gave him paltry run support last year. More runs will equal more wins for Hernandez, which will catch the eye of the casual fan and ensure he takes home the Cy Young.
AL MVP: Mike Trout, Center Fielder, Los Angeles Angels
This was a tough call. While Trout is clearly the face of baseball and one of the game's brightest stars, he will have competition from Robinson Cano (Seattle Mariners) and Jose Abreu (Chicago White Sox). However, the 23-year old phenom is most likely to repeat as MVP. Trout took home his first MVP award last season on what was arguably a down year for him.  While Trout "only" batted .287, he had half as many stolen bases as in 2013 and his strikeouts were up, yet his 36 HR and 111 RBIs sold it. Look for him to reestablish himself on the base-paths and in his plate discipline as he fights to repeat as MVP.
AL Rookie of the Year: Mookie Betts, Center Fielder, Boston Red  Sox
A year ago, most people other than Red Sox fans, had never heard of Mookie Betts. Today he has gained national attention for his increasingly stellar play as he will be Boston's center fielder in 2015. Betts started last season in Double-A, moved up to Triple-A, then ascended to the majors in just 100 games. In 52 games with Boston, Betts batted .291, with an on base percentage (OBP) of .368, while showing his defensive prowess. This spring Betts was off the charts batting .451. With himself established for a full pro-season and in one of baseball's most feared lineups, look for Betts to flourish.
NL Cy Young: Max Scherzer, Starting Pitcher, Washington Nationals
A lot of readers are probably thinking, "Why not Clayton Kershaw?" It was tough to exclude Kershaw, but the award is his to lose. The logic in picking Scherzer is that if he pitched so well against superior American League offenses, imagine what he will do in the National League (especially playing a handful of games against the Phillies and Mets). Scherzer had a strong 2014 with Detroit going 18-5 with a 3.15 ERA, he will take that dominance to the NL.
NL MVP: Andrew McCutchen, Center Fielder, Pittsburgh Pirates
Lets face it, McCutchen is a candidate for MVP every year and shows no signs of stopping. He is one of the best players in the game and has carried Pittsburgh to the playoffs two years in a row. McCutchen took home his first MVP in 2013 and followed that with an almost identical season in 2014. He batted .314, clubbed 25 HRs, and had an OBP of .410. "Cutch" will win his second MVP this season.
NL Rookie of the Year: Joc Pederson, Center Fielder, Los Angeles Dodgers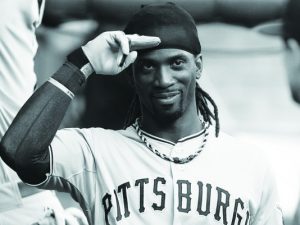 If not for Chicago Cubs third baseman Kris Bryant being sent to the minors, this award would be his. That should not discredit what Pederson will do this year. He is one of the Dodgers top prospects and has "five-tool potential." In his last year in the minors, Pederson showed he can hit for contact and power (.303 and 33 HRs), can get on base (.435 OBP) and can run (30 stolen bases).