Richie Feathers, Managing Editor
When a band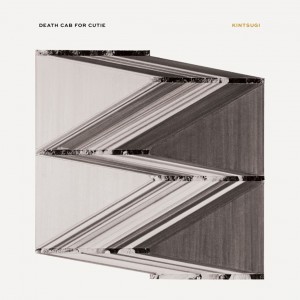 is known for pretty, moody music written for the lonely and broken, it can feel like a betrayal when they release something that is actually "happy."
This was the case for Death Cab for Cutie in 2011 when their record Codes and Keys, an under appreciated entry in the band's masterful catalog, saw lead singer Benjamin Gibbard celebrate his marriage to actress Zooey Deschannel (New Girl). Whereas the quartet had previously soundtracked excursions in love and loss with cryptic lyrics and a painter's eye for detail, not all fans thought happiness looked good on the alt-rock group.
In the interim between Codes and Keys and Death Cab's eighth studio album Kintsugi, however, bassist/producer and co-founder Chris Walla left the band after more than 15 years and Gibbard and Deschannel got a divorce.
But instead of retreating back to find old comforts in elegy, Kintsugi tries to re-establish the band's position as indie heavyweights to a new generation of listeners.
As the first outside producer Death Cab has ever worked with, Rich Costey (Muse, Foster the People) brings a fresh sound to the band of aging boys next door. The album builds off the electronic touches of Codes and Keys, but Costey refines them further for a clean, new wave sound, resulting in Death Cab's most direct record yet.
Lead single "Black Sun" is a mid-tempo electronic number that recalls OK Computer-era Radiohead, Gibbard's words betraying his restrained tenor as he asks his ex-lover, "How could/Something/So fair/Be so cruel?"
Deschannel is also the focus of opening track "No Room In Frame," an early highlight of loping percussion and stray guitar. "And I guess it's not a failure we could help," Gibbard explains. "And we'll both go on to get lonely with someone else."
Despite the remarkably "unhappy" circumstances that surround Kintsugi, the album is reluctant to sink too deep into outright melancholy. When it does, however, as on the unassuming "You've Haunted Me All My Life," it doesn't get soppy.
Better still is the arresting beauty of "Hold No Guns," the acoustic centerpiece that gives the band's classic "I Will Follow You Into the Dark" a run for its money. Proving Gibbard's status as one of the best lyricists of the 21st century, it's a simple but effective moment that's bound to connect with any Death Cab fan who thinks they've lost their spark.
The trio still knows how to rock too. "The Ghosts of Beverly Drive" is a catchy, guitar-driven pop song and "Good Help (Is So Hard to Find)," a polished alt-rock hit-to-be, shows that Death Cab still know how to write for radio appeal. Elsewhere, standout "Everything's a Ceiling" begins as an 80s-inspired synth ballad before building to a surging climax.
One of the more interesting songs on Kintsugi is penultimate track "Ingenue." Its stuttering percussion and expansive guitar make a warm bed on which Gibbard gives a young woman open advice to take control of her life while she still can. But as he pines for "the currency of being 23," it's hard not to hear it as Gibbard singing to himself.
Gibbard isn't 23 anymore, and Death Cab for Cutie are no longer the geeky alt-rockers made famous by The OC. (The trio's apex album Transatlanticism recently celebrated its 10-year anniversary with a deluxe re-issue.)
But emitting from Kintsugi is a band still full of life and untapped potential, feeling their way around an uncertain music landscape. Even the album's title, a Japanese art form of filling cracks in broken pottery with golden lacquer to emphasize rather than disguise them, refers to a resurgence of strength and a map of one's own history.
Death Cab for Cutie certainly have an impressive history behind them, full of top-selling albums and truly moving songs, festival headlines and movie soundtracks. It's unlikely that Kintsugi will be considered one of the absolute best of the band's career, but it's a natural and wholly enjoyable step toward the rest of it. The album is not "happy" per say, but it's not particularly sad either. Kintsugi is simply a record about growth through loss and the comfort in acceptance, ultimately leading to renewal.
Key Tracks: "Black Sun," "The Ghosts of Beverly Drive," "Hold No Guns"