Pat Boody, Staff Writer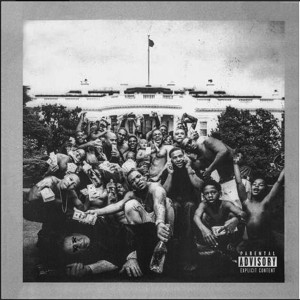 Kendrick Lamar has always had something to say about today's society–particularly the prevalent issue of racial inequality. He's included this theme on his first two albums Section 80 and good kid, m.A.A.d city. But this focus comes to fruition in the newest addition to his discography, To Pimp A Butterfly, an amalgamation of immaculate production, a few features across the board, especially with the jazz expertise of Robert Glasper, and the ongoing narrative that tells of the strife Lamar faced growing up as an African-American in Compton, California. This album is crafted through a political and sociological lens that has been seen in underground hip-hop, but Lamar has managed to permeate this barrier on the mainstream level. After the record's release, fellow Top Dawg Entertainment musician SZA thanked Lamar on social media site, Instagram for being a continuous inspiration, and  for polarizing music. "Polarizing" is the quintessential term to describe this record; people will have divided views on it, but those who are true fans of hip-hop that ventures beyond what is considered popular will view this album as a masterpiece.
To Pimp A Butterfly has secured a spot as one of the top-selling records of the year, but more importantly as one of the most significant hip-hop releases in decades.
Receiving praise from various realms of the industry, Lamar has created more than excellent music. He's managed to give a voice to societal issues that many look passed.  And because of this, the record has made such an inconceivable impact even though it was only recently released.  Garnering praise from mainstream hip-hop artists, underground rap stars and other artists across the board, this album is a piece of social criticism that deserves more than a single listen.
In its entirety, this release is Lamar in his most musically mature state. Elements that stretch beyond rap music are what truly individualizes this record. Aspects of jazz, funk, spoken word and an interview are incorporated to elevate it to a new tier. Everything is on point–production, lyrics and beats. There is not a single flaw with this record.
Aside from receiving support and praise from all corners of the music industry, Lamar has received praise from countless music critics. On the review aggregate Metacritic, the album scores above Outkast's Stankonia, the highest rated rap album on the website. The title itself is a play on the novel To Kill a Mockingbird, but is also a metaphor representing Lamar's evolution that is certainly manifested in this record.
The pimped butterfly alludes to how African-Americans and other minorities have, throughout history been victims of oppression by those at the top of the hierarchy. Each butterfly is used and endlessly abused to reap the benefits for "the man" above them. Lives of minorities certainly matter. No man or woman is above another, and that is something that Lamar is preaching.
Perhaps the hardest and most in-your-face track on the record is "The Blacker the Berry." Previously released as a single, this song alludes to the struggle that blacks face. Whether being considered inferior because of disparate physical features or accused of having schizophrenia for being activists who sought a different life for themselves, these and other historical facets that remain unsung in the everyday life as people of color are depicted on this song most acutely.
However, the last line of the song is perhaps one of the strongest bits of opinion Lamar has to offer. It essentially points out how blacks remain oppressed in today's society, but also how black on black gang violence is still prevalent and is allowing those who are black oppressors to be at a greater advantage, using this as an incentive to criminalize and differentiate blacks even further. After Lamar says this in more or less words he ends the song by yelling, "Hypocrite."
Lamar's album is already considered a contender for album of the year. Putting forth a record that is so musically, philosophically, socially, politically layered and advanced is something that analogous of the mainstream. However, it was an incredible feat of Lamar to attain so much praise for an album that did so. It all comes back to his label-mate SZA's point on how this record polarized music. Yet, enough wasn't said on her part on this Instagram post. This record will polarize the nation.