Richie Feathers, Managing Editor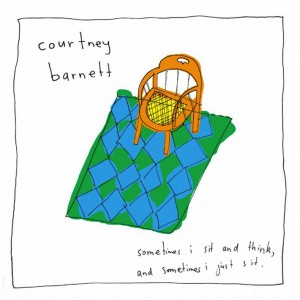 Two minutes into Courtney Barnett's brilliant debut and a smile begins to crack at the possibility–no, likelihood–that the Aussie's critically-awarded title as "the next Bob Dylan" is validated.
It's a weighty, if not entirely uncommon label that gets thrown around whenever a new artist appears who boasts a unique way with words and an imperfect voice. Barnett has both, as well as Dylan's hawk eye for detail, his satirical wit and rhythmic delivery.
But whereas Dylan started as a political troubadour uniting a generation, Barnett sings about house hunting, not wanting to mow the lawn and road kill. It's the familiarity of her words however, and the vitality of her music–a range of grunge, rock'n'roll and punk–that places Barnett on a soapbox of her own.
The singer-songwriter's stream of conscious delivery is on full display in lead single "Pedestrian At Best," a rush of chunky guitar and 'riot grrrl' fervor as she stomps on her crown as an up-and-coming star.
Despite this reluctance to any mainstream attention, Barnett has been on critics' lists since her first release, "Avant Gardener," became a retro alt-rock hit in 2013. The track's slow chug and hazy feedback blended well with the drollness of her voice and mundanity of her lyrics, and introduced the Melbourne native as a sly, Lou Reed-inspired force to watch.
Last year's re-release of earlier material, The Double EP: A Sea of Split Peas, further presented Barnett's knack for conversational delivery and lyricism, garnering much deserved anticipation for a full-length debut.
And Sometimes I Sit and Think, and Sometimes I Just Sit is every ounce the marvel it was expected to be. Chock full of tiny moments built into massive songs, the album is endlessly enjoyable, raw and thought provoking.
Opener "Elevator Operator" showcases Barnett's ability to develop full characters with few words, a skill of which Dylan is the master. Its guitar-pop immediacy and narrative verses make it a sure-to-be hit.
Although never preachy, she gets political as well – tackling pesticides with 70s guitar polish on "Dead Fox" and pollution on "Kim's Caravan."
But Barnett's at her best when she sings about the humdrum of unremarkable living.
On "An Illustration of Loneliness (Sleepless In New York)" she turns an insomnia fueled game of I Spy into an open letter to a lover far away.
She almost drowns in a public pool in "Aqua Profonda!" after trying to sneak glances at another swimmer, and plugs in for "Nobody Really Cares If You Don't Go to the Party," a surging garage rock number where Barnett considers going out when she really just wants to stay in: "You say 'you sleep when you're dead'/I'm scared I'll die in my sleep."
The stunning "Depreston" shows a quieter Barnett, singing tenderly about visiting a deceased estate up for sale. Its poignant tale demonstrates the Aussie's empathetic eye for detail as she gets acquainted with the previous owner from "the hand-rail in the shower/A collection of those canisters for coffee, tea and flour/And a photo of a young man in a van in Vietnam."
Don't worry, the realtor assures, "If you've got a spare half a million/You could knock it down and start re-building."
Comical, sophisticated and ultimately comforting, Courtney Barnett is a shout in a crowd of mutters. She doesn't ask as much of her listeners as Bob Dylan did, but when her effortless way with words uncovers an overlooked beauty in the everyday, it subtly insists they open their eyes to find the beauty for themselves.
The cover and liner notes of Sometimes I Sit and Think, and Sometimes I Just Sit–the excellent title of which was grabbed from a poster in her grandma's bathroom–are strewn with notebook etchings of different kinds of chairs. From a leather chair, to a squatter chair, to a chair that needs a new cushion, Barnett represents everyone who sits and thinks, and those who just want to sit. But her refreshing approach assures that no matter what chair people sit on, often they see the same things.
Key Tracks: "Pedestrian At Best," "Elevator Operator," "Depreston"