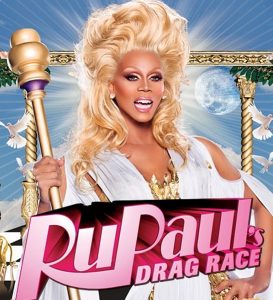 Cheyenne Dorsagno, Staff Writer
According to TV.com, RuPaul's Drag Race is the best reality show on the air. Fourteen drag queen contestants compete to be awarded the title of "America's Next Drag Superstar" and $100,000.
A drag queen is a man who periodically inhabits a female gender role for the sake of performance. Their unique, signature identity is accomplished through their clothes, make-up, wigs, attitude and pliable padding under their outfits to create a more womanly shape. This transformation can take hours. These individuals have a drag persona with an alternate name that represents their aesthetic. This practice can be a hobby or lifestyle; it is seen as a fashion, cultural, personal and artistic statement.
RuPaul's Drag Race has continually been gaining fame and a wider audience. The show has helped bring drag culture into mainstream media, as it has ascended from being a once persecuted, underground activity.
Season seven premieres March 2 at 9 p.m. as the Logo channel's most successful program. This year's contestants come from all across the country–states such as Texas, New York and California–with ages ranging from 22 to 46. Some of the featured queens are Ginger Minj, the self-proclaimed southern "Crossdresser for Christ"; Katya, a raunchy Russian inspired queen and trained gymnast; Max, whose commitment to vintage is completed with grey-haired wigs and a characteristic fake accent; Trixie Mattel, whose exaggerated make-up is something almost out of a comic-book; Kandy Ho, a Puerto Rican bomb shell who prides herself in her sweet sexuality; and more. The series' sampling of men show that drag queens come from all backgrounds, beliefs, genders, races and sexualities.
The show's host and governing judge is celebrity RuPaul Andre Charles.
Age 54, Charles is the first drag queen supermodel, actor, recording artist, author and TV personality. He is known for his 1993 hit song "Super Model (You Better Work)" but has since produced many albums and singles.
Charles is seen in his show both in and out of drag, accepting being addressed as "he" or "she." Every episode he welcomes famous guest judges, which will include famed Project Runway fashion designer Santino Rice, actress Jessica Alba, comedian Kathy Griffin, Spice Girls singer Mel B and more. Each episode also proposes a variety of challenges for the competitors, proving that America's Next Drag Superstar is well-rounded and exhibits–as RuPaul has explained it–charisma, uniqueness, nerve and talent.
Throughout the season, each queen will make their own costumes, do their own make-up, act, perform stand up, lip synch, dance and more. (In previous seasons this has included painting and perform puppetry). The two weakest links of each episode will have to battle head-to-head in a dancing and lip-synching standoff.
This dynamic entertainment is both riveting and original. RuPaul's Drag Race offers a progressive and exciting hour of television whose charismatic personalities are what truly create its dedicated following.