Marielle Genovesi, Arts Editor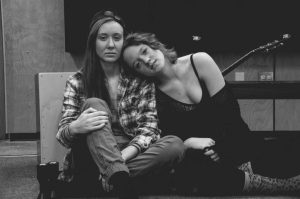 Sarah Heikkinen and Caitlin Weiner are juniors here at SUNY Oneonta. The two spunky roommates recently formed the two-lady band Cadosia, named after a small New York town that they've never been to, because they could. Although Cadosia is just entering the music scene, Heikkinen and Weiner were excited to tell me about what is to come for the band, as well as give me some "get to know us" kind of details.
Marielle Genovesi: How and when did Cadosia form?
Sarah Heikkinen: Well, I guess we always joked about starting a band when we were freshmen, and then one day we were just kind of like, "Okay, let's do it."
Caitlin Weiner: But really, Sarah just said, "Hey, we should do this thing," and I said, "Sure."
Marielle Genovesi: Tell me about yourselves. What year are you here, and what are you interested in and involved in on campus?
SH: I'm a junior English major, African & Latino Studies minor. I'm very involved with the theater department, and I'm actually in the student production of Federico Garcia Lorca's drama "The House of Bernarda Alba," which opens in March.
CW: I'm also a junior English major, minoring in Professional Writing and Classical Studies. I'm the beatboxer for Pitch Slapped, the all-female a cappella group on campus. I play intramural basketball. That's basically it.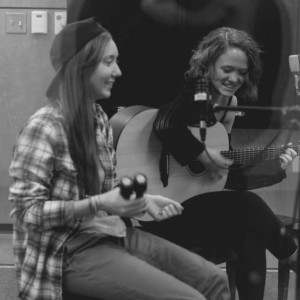 SH: We're not very interesting.
Marielle Genovesi: How did you come up with the name of your band?
SH: Well, when my mom and I were driving back to school after a break freshman year, I saw this highway sign for some town called Cadosia on Route 17.
CW: She texted me and said, "Hey, wouldn't this be a cool name for a band?" So then when we actually started to do things, it only seemed fit that we call ourselves Cadosia.
SH: We have never been there.
CW: But we're planning a trip there…one day. To pay our dues.
SH: Thank you, Town of Cadosia.
Marielle Genovesi: Who plays and does what in Cadosia?
SH: I play guitar, ukulele and sing.
CW: I play various percussion instruments and sing as well.
SH: We have a new addition to our musical family…
CW: A cajon!
Marielle Genovesi: Since you're a relatively new band, what are your plans for the future? Are there plans to create an EP or full album eventually? Where do you see yourselves going as a band?
CW: We've been recording some covers in one of the campus studios with our friend Zach Hitchcock, and we have some original songs in the works.
SH: I mean, I guess our ultimate dream is to be world famous, but we'll start by making a SoundCloud and showing the public some of our original work.
CW: But right now, we're not really trying to go nuts. We're really just two friends having fun and making music.
Marielle Genovesi: Where have you played so far, and what kind of response have you received from your audience?
CW: We played at the first MIC show of the semester at Club Chuck, and most recently we performed at an open mic at Bluefields Cafe in town.
SH: We've gotten a really positive response from people, and we plan on competing in the Battle of the Bands competition for OH-Fest.
CW: We'll see how the semester goes.
Marielle Genovesi: You guys describe yourselves as an indie folk band, where do your influences come from?  
CW: We try to be as passionate as The Civil Wars, while retaining the sassiness and spunk of Lana Del Rey.
SH: We also really love Alabama Shakes, Hozier and Joseph.
Marielle Genovesi: Where do you two plan on playing locally? Where should SUNY Oneonta students go to find out more about Cadosia?
SH: We plan to make more appearances at Bluefields Cafe, and like we said before, we are planning to compete in the Battle of the Bands for OH-Fest.
CW: We're really open to anything and don't like to let any opportunities pass us by.
SH: We're also on Facebook, Google+ and YouTube! Just search for Cadosia.
CW: Any updates on where we're performing or
what we're up to will generally be put on social media.