Astrid Ressler, Contributing Writer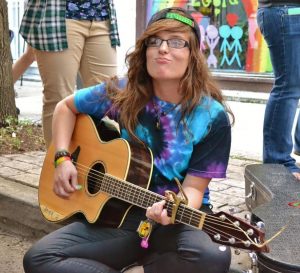 Amber Martin is a talented twenty-two year old guitarist and vocalist. Born in Whitney Point, New York, she is a local musician who has been living in Oneonta since October of last year. Originally having made a name for herself in Binghamton's down-town music scene, Martin is now playing open mic nights in Oneonta to try and broaden her musical horizons.
She got turned on to the idea of playing and performing when she was 15 years old and, as she puts it, "I wanted to pick up the ladies." Martin taught herself how to play the guitar with some help from videos on YouTube. She said that her reasoning for playing as well as for writing her own music was to, "express herself I wanted to commit to something." She also claims that since she picked up her first guitar seven years ago, she has not gone a single day without playing.
When asked who her major influences were, Martin's answer may surprise most people. She said, "Other local musicians. With them producing new music it makes me want to work even harder." She has played at many different places in Binghamton over the last few years and has managed to make herself a musician that people go out to see.
She has played at Binghamton's summer music festival, July Fest, for the last two years and has performed multiple times at the Cyber Cafe West, the Belmar Pub and Fitzie's Pub, all in Binghamton.
Martin says that her most memorable performance was when she flew out to California two years ago during spring break to visit her aunt. She ended up performing at an open mic night in Santa Ana at a bar called the Gypsy Den. She explains, "I got everyone in the bar singing 'Pumped Up Kicks' [originally by Foster the People]."
That song, along with a few other covers like "Wagon Wheel" by Old Crow Medicine Show (but popularized by Darius Rucker) and "I'm Yours" by Jason Mraz make for an impressive performance. She also plays many original songs  which help showcase her talents.
You can find Martin playing every Monday night at nine o'clock at the Black Oak Tavern on Water Street.