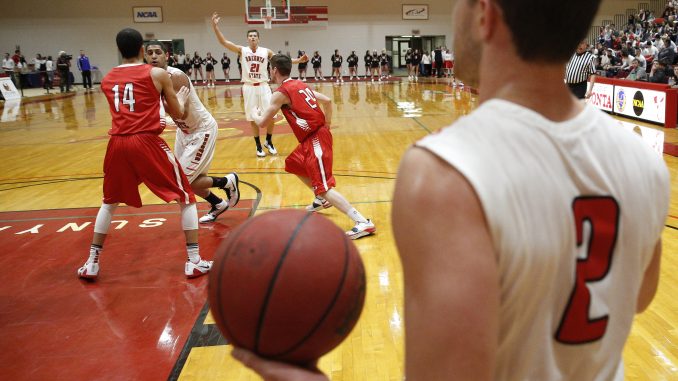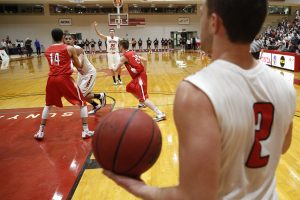 Alex Park, Staff Writer
Battle of the Red Dragons: Oneonta's Men Dominate Cortland 89-68; Women Fall 59-57 in OT:
This past Friday, January 30, Senior Zach Mager and junior Mikey McElroy led the charge for Oneonta as they combined for 57 points to defend their home court against the rival Red Dragons.
It was truly a tale of two halves as Oneonta and Cortland finished the first half 38-37, with Oneonta holding the advantage. The second half was all Oneonta as they outscored Cortland 51-31, largely in part of Mager and McElroy (19 points and 16 points, respectively).
With the victory, Oneonta has improved their record to 8-8 and moved into a tie with Cortland in SUNYAC standings at 5-4.
Oneonta's men opened up the second half by scoring three points on each of their first five possessions, pushing the lead to seven at the 16:37 mark. Cortland did manage to trim the lead to six off a layup by Cortland's leading scorer, senior Lamard Herron, but it never got any closer.
As Oneonta continued to pull away, the crowd got even more electric as chants of "Let's Go O" busted out.
The tale of two halves continued in the following women's game. Oneonta outscored Cortland 26-17 in the first half, but succumbed to the intensity of the team's full court press and were outscored 31-22 in the second half, falling behind as much as seven.
However, it was the late game heroics of junior Caysea Cohen that helped force overtime in Dewar Arena. Cohen knocked down two crucial three-pointers, one at the 1:05 mark and the other at 0:26 to pull Oneonta within one. After Danielle Levine of Cortland knocked down one of two at the free throw line, pushing the lead to two, Oneonta was forced to make a play.
With all eyes on Cohen, Cortland predicted the inbounds pass and forced a deflection, only for junior Bryn Loomis to corral the loose ball and knock down the layup, drawing a foul and , forcing overtime.
However, the story in overtime was much different than in regulation. No team took a lead of more than two, and it was Cortland that ultimately walked away with the victory on a game-winning layup by sophomore Cassidy Chapko.
The loss to Cortland sent Oneonta to a SUNYAC Conference record of 5-4.
Game Notes:
1) Cortland's men were led by junior Blair Estarfaa (20 points, 5-9 3-PT) and freshman Justin Prendergast who scored 13 points on 5-6 shooting.
2) Oneonta's men outscored Cortland 46-28 in the paint.
3)Brittney Dumas led the charge for Cortland's women, notching 18 points and 12 rebounds. Chapko contributed 10 points in their victory as well.
4)In other action over the weekend, Oneonta's men fell to Oswego in overtime while the women dominated the glass en route to a 71-64 victory over Oswego.