Richie Feathers, Managing Editor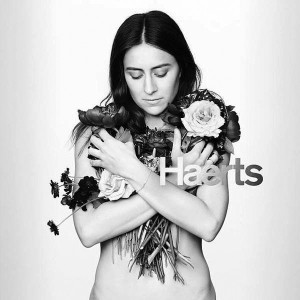 Although it's been difficult for critics to draw the line between the "indie" tag and the admittedly pop sound of Brooklyn's up-and-coming quartet HAERTS, when the music is this enjoyable it shouldn't have to matter.
Certainly, HAERTS' brand of 80s-inspired, synth-heavy dream pop is growing innocuous at this point, if no less appealing. Other female-led groups may have the gloss (CHVRCHES) or the edge (HAIM) to make them stand out naturally, but HAERTS still manage to warrant more than a passing listen.
On their recently released self-titled debut, vocalist Nini Fabi's warm soprano glides over Ben Gebert's thick keyboards and the instrumental skills of Garrett Lenner (guitar) and Derek McWilliams (bass). The album also benefits from Jean-Philip Grobler's crisp production, recalling his own sprightly pop as St. Lucia, another popular name treading the boundary between indie-pop and Top 40.
This lack of distinction between categories, however redundant, can perhaps be credited to HAERTS' signing a record deal with Columbia, the major label that boasts a roster with popular names such as Calvin Harris and Beyonce, instead of an independent label, which would have automatically pigeonholed the group into the indie canon.
That being said, Columbia's impressive range of artists also includes indie favorites Chairlift and MSMR, both of whom share musical DNA with HAERTS. Lead single "Wings" soars like a radio-friendly hit from the former's record, Something, while the electronic pulse of "Hemiplegia" recalls the drama of the latter. Elsewhere, standout track "Lights Out" evokes the restrained moodiness of London Grammar, another Columbia label-mate.
However borrowed HAERTS' sound may be, the album does offer a couple of gems that prove there's a bit of themselves in the music.
"Call My Name" is a gushing head-versus-heart synth ballad, Fabi sounding right at home with her Tango In the Night-era Stevie Nicks yearning. It's not an especially groundbreaking song, but it still exudes a vulnerable girl-next-door persona that cuts deeper than other tracks on the album.
But it's the opening song, "Heart," that proves to be the crucial cut. With an effortless pop hook built around Fabi's strong voice, pounding percussion and soaring synth lines, the track is a clear highlight and could stand among some of the top hits of their contemporaries.
With so much infectious, but ultimately monotonous, indie-pop fodder circulating the Internet, it's a wonder that a clean-cut quartet like HAERTS didn't get lost among the shuffle. Lucky for listeners, the group without a doubt deserves that double-take they received from Columbia. No longer an immediate sign of selling out to a big corporation, HAERTS shows that sometimes an indie sensibility can mold perfectly with a pop sound. Let the public decide where the band goes next, but don't write them off quite yet. It's not revolutionary music; it's just plain good music.