Grace Carney, Staff Writer
On October 29, hundreds of SUNY Oneonta students gathered at an informative event featuring "Persepolis" author Marjane Satrapi. SUNY Oneonta President Dr. Nancy Kleniewski began the night with an introductory speech, foreshadowing the significance of the event to follow.
Satrapi grew up in Tehran, Iran, in a middle class, highly-educated Marxist family. She attended school at the Lycee Francais where she studied Decorative Arts and was first inspired to put her life onto the pages of a comic book. She is best known for her critically acclaimed graphic novel, "Persepolis," which has been translated into over 50 languages and was turned into an Oscar-nominated film. She created all of the illustrations by hand, without the use of a computer. In "Persepolis," Satrapi depicts what life was like growing up during the Islamic Revolution through the perspective of a bright, feisty and innovative young girl. In an interview with Dr. Susan Bernardin, Satrapi revealed the inspiration that planted the roots to her many works of literature.
War is often considered to be synonymous with violence, but Satrapi wanted to clarify that the core of "Persepolis" was not actually about violence, although it incorporated a child's perspective of political turmoil. She stated violence can be seen in modern day films that use the F-bomb incessantly, while often simultaneously lacking any real depth or moral lesson. She also noted that at age 13 she had a poster of British pop singer Kim Wilde on her bedroom wall. Growing up in a time when the government in neighboring countries wanted to censor pop music, she said music saved her. "Human beings desire freedom by nature," said Satrapi.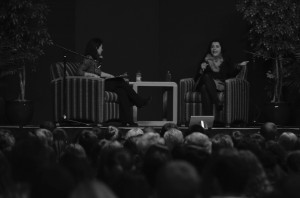 Satrapi discussed why she chose to tell her story in a comic book and how the book eventually became an Oscar-nominated film. Growing up, Satrapi was an avid comic book reader, however she found all her favorite comics (Batman, Tin Tin, and Superman) only portrayed male heroes. This is one of the main motivations that inspired her to create Persepolis as a graphic novel– because she wanted to create a comic with a strong, independent female protagonist. Marjane's character in Persepolis certainly fits the bill in this autobiographical tale.
Initially, Satrapi did not want to turn "Persepolis" into a film. However, once she realized it was a once in a lifetime opportunity she couldn't refuse, she decided to go for it. Satrapi was fully satisfied with having completed the collective work, and being the mastermind to the plot of an Oscar-nominated motion picture. The author also noted that she wanted to keep the film animated since it makes the characters universal. Any reader could think, "this could have been me."
Satrapi shared inspiring and profound insight throughout the interview. She mentioned how laughter is abstract, but the reasons people cry are universal. She added that life is truly unbearable without humor. She affirmed to not allow fear to stop you from taking risks and to not regret your mistakes or be afraid of living. Satrapi urged her audience to rebel against the forces of oppression that they may face.