Hannah Griesel, Staff Writer
My favorite albums are the ones with connecting themes and deeper meanings than what you might get from it after a first listen. At first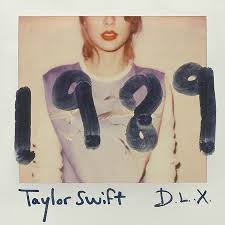 listen of 1989, Taylor Swift's first full-blown pop album. I found myself appreciating the sarcasm in a few of the tracks, and dancing along to the catchier ones, without catching on to the possibility of there being much more behind her lyrics. I was pleasantly shocked when I began reading deeper into the 13 songs on the album. Of course, it's still not the deepest record out there, though it seems to have much more meaning than many of her fellow pop artists. Perhaps Swift's highly public life makes it easier to decipher meanings behind songs, but many are done in brilliant ways and it makes sense why this album is being renowned by so many music lovers and is set to "surpass the one-week sales record for an album by a woman," and "earn the largest sales week for any album since 2002," according to Billboard as of November 1.
When "Welcome to New York" was released as a promotional single before the album's drop, it instantly received a ton of flack. It was criticized because Swift has only lived in New York City for a few months and her expensive loft may not offer a true representation of what the city means. At first glance it may seem a bit out of place for Swift, formally a resident of the country music capital, Nashville, to be singing and inviting others into this new city. But this song comes together as a perfect introduction to the album when you realize that the "you" she's singing to in the song is herself. New York represents her switch from country to pop, from the young girl she once was to the young adult that she is now. This track is about how New York has helped her become who she is, even if it will be overused as the city's soundtrack for years to come.
As many artists do, and Swift is often mocked for, she's taken inspiration for some songs from experiences she's had. The first of three consecutive songs believed to be about Swift's December 2012 relationship with One Direction's Harry Styles is the conveniently named "Style." The song is disguised as a happy love song ("We never go out of style") but it tells the tale of an unhealthy relationship that doesn't work although it seems like it should. The conflicting lyrics are supported by the music, a bit eerie and moody in the verses but with a catchy, poppy chorus. "Out of the Woods" is possibly part two, and the darker feeling of the song accompanies Swift's breaking out of this relationship. Websites were quick to note the obvious references to her relationship with Styles, including the paper airplane necklaces both of them wore. "All You Had To Do Was Stay" is believed to be part three. This part was not as well received as the two previous tracks, but it's catchy as hell and shows Swift getting stronger in her relationships.
"Shake It Off" was released in August as the album's first single. Here, Swift acknowledges her perceived role in the media and the categories people try to put her in. Swift said in an interview with NPR that her past approach, like the 2011 hit "Mean," was to play the victim, but she's gotten good at laughing off the criticism. Her next single, due to be officially released on November 10, the sarcastic song "Blank Space." She's cheeky when she sings about her "long list of ex-lovers". Here, she's confident about taking a chance in love, and paired with a Lorde-inspired beat it's bound to be a hit.
1989 ends with what seem like the most mature tracks on the album–definite proof that Swift is maturing as an artist. "I Know Places" comes after two less exciting songs, but smacks you in the face right when you think the album is winding down to a mellow close. It is about Swift's relationship with the paparazzi and trying to escape the cameras with a lover. The song showcases some interesting vocals, including a yelled "Run!" at about 1:39, making up my single favorite moment of the record. "Clean," a collaboration with electronica pro Imogen Heap, closes the album. The instrumentals, meant to mimic the sound of rain, combined with echoed vocals are appropriate to end this dive into the mind of Swift.
Swift's title makes sense for her album. The pop music of the 80s was a major influence for Swift, as she said while announcing her album in August on Yahoo! Live Stream. Also, she's forcing the public to acknowledge her birth year. At almost 25 years old, she's certainly not the same 16-year-old singer that she came onto the scene as. With overwhelmingly positive reviews, it seems that people are getting the hint.