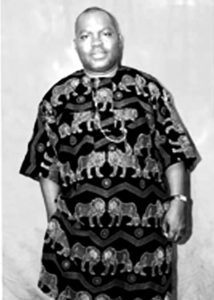 Meagan Moore, Contributing Writer
On Thursday, October 23, Nigerian-American poet Obi Iwuanayanwu – known in literary circles as "Obiwu" – did a reading for the SUNY Oneonta campus as a part of the Red Dragon Reading Series. With a personal history full of trial and hardship during the Nigerian Civil War, where the Igbo people faced political turmoil and genocide, Obiwu was able to overcome all odds and find refuge in the United States, study and graduate from Syracuse University and work his way to be the Director of the Writing Center at Central State University in Ohio. With such a unique background, Iwuanayanwu has a lot to offer in his writing, from which he shared several poems from his poetry collection, "Tigress at Full Moon," on Thursday night. His poems draw heavily from his personal experiences and are centered on themes such as cultural and ethnic equality, love, grief and personal connections.
As his major poetic influences, Obiwu credits poets including Christopher Kebo, Ezra Pound and T. S. Elliot. With these American Modernist influences, along with a life story full of literary noise and color, Obiwu relies heavily on sensory images in his poems. In his own words, Obiwu says, "When writing my song, I like to make [my poems] as personal as possible." Obiwu does just this in his poems, creating images based on the spilling of blood in his country, the sounds of weeping and rejoicing and descriptions of landscapes in his home village in Nigeria. As for which of his environments shows most through his writing, Obiwu claims, "The life of an exile is always very complicated, I wrote of where my heart was, even though my body was here."
Obiwu's poetry, despite its roots in Nigerian culture, is quite easy for the average reader to understand. His use of Igbo terms, according to him, is used consciously because he knows his audience is there. Sometimes he will first write a poem excluding Igbo terms and then add them later to ensure seamless inclusion of his culture. Further, in most publications there is an added glossary included to simplify understanding of the text and avoid the foreign terms from taking away the enjoyment from the non-Nigerian reader.
As a departing sentiment, Obiwu gladly gave students and faculty in attendance a wonderful message on equality, saying, "Personally, my wish is for whites and blacks to know that the feeling one gets from love is the same for a white or a black person. We get the same feelings from losing someone, falling in love, or any other event." Then, he went on to explain how this idea can be seen in his writing, being that more often than not he writes on the cruelty of genocide and the need for universal love, understanding and equality regardless of race, gender, religion or sexuality.