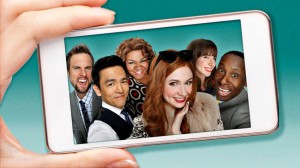 Tim Greene, Staff Writer
Selfie, a new drama premiered September 30, on ABC, starring Karen Gillan (Dr. Who, Oculus, Guardians of the Galaxy) as Eliza Dooley and John Cho (Star Trek, American Reunion, and Harold and Kumar Trilogy) as Henry, a marketing genius and co-worker of Eliza to help her boost her reputation and re-connect with the real world.
The pilot (no pun intended, seeing as it begins on an airplane) introduces Eliza Dooley, a self-obsessed social media superstar who has thousands of followers, and who has remade herself via social media platforms. After a terribly embarrassing incident in front of her co-workers Eliza decides she desperately needs a life change. This leads her to turn to Henry for help, who warily accepts the challenge. This includes seemingly ridiculous things, such as teaching Eliza the appropriate way to greet her secretary every day. The show isn't just about social media obsessed culture, but also reflects on the self-doubt and reinvention spurred by it.
Yet, something about the two protagonists of the show just doesn't seem right. Eliza as a character seems silly and idiotic, and Henryis terribly boring in contrast. What does provide intrigue happens to be the chemistry between Gillan and Cho. The humor between the two is arguably one of the selling points of the pilot, although their moments of seriousness seem to draw the audience in as well. This, at the very least seems to provide promise for the episodes to follow.
With a questionably daunting name like "Selfie," the show tackles ideas concerning living in a social media obsessed culture. At times it is really truly funny, and others it just seems ridiculous, the show accurately portraying them with scenes such as one where Eliza turns to her phone for entertainment in the middle of a wedding when she gets bored. Or a scene that may seem familiar to most, where a group of people in an elevator all attempt to find a signal on their cellphone. At the same time, it seems the show tends to overdo the whole "socially self obsessed girl-attitude"
The reliance on social media and pop culture jokes and references make the show a bit more unique, one can't help but find someway to relate. It seems to have great potential because it is unlike other shows on TV. I give it a 6 out of 10, and recommend giving this show a second chance, just as I plan to do.