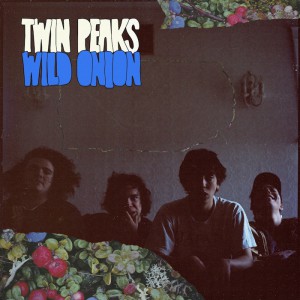 Richie Feathers, Managing Editor
Chicago garage-rock quartet Twin Peaks swear they didn't get their name from the early-90s cult television hit. It would be difficult to believe them had they actually been alive when the show was around. Instead, these 20-year-olds chose the name because it "sounded cool."
In the classic spirit of rock and roll, childhood friends Cadien Lake James (vocals/guitar), Connor Brodner (drums), Clay Frankel (vocals/guitar) and Jack Dolan (bass) tried college–or, three months at Washington State, "dabbling in hallucinogenic drugs in the forest"–before dropping out after playing South By Southwest in support of their debut, 2013's Sunken. But it's their own spirit–not to mention their music–that keeps the band from falling victim to this archetypal story.
Twin Peaks' sophomore album, Wild Onion, released in early August, rushes with adolescent adrenaline, made even more potent coming from a group of actual adolescents. Trading in the lo-fi haze of Sunken for leaner, heavy guitar-driven grit, Wild Onion combines the thrash of garage-rock with the strut of late-60s, early-70s rock and roll.
Dynamic opener "I Found a New Way" crackles with the raw power of early Velvet Underground, while Frankel pulls off a Jagger-like swagger in "Good Lovin'."
They also cite 60s pop greats like The Zombies, The Beatles and The Beach Boys as influences. With the hooky riffs of songs such as "Making Breakfast," the lover-boy pleads of "Sweet Thing" and the orchestration of "Mirror of Time," Twin Peaks pay tribute to each of these icons, respectively.
Yet, even with the indispensable rock names worn proudly on their sleeves, the young Chicagoans still manage to find their own contemporary style.
In "Telephone," jangly guitars give way to a psychedelic bridge before James returns to end the song with a mighty vengeance. "Flavor" follows as a two-minute burst of exuberant pop-rock as James growls, "Flavor your heart and your soul," sweat flying, beer sloshing.
Even at 16 tracks, Wild Onion is brisk but cohesive, and nothing feels forced or insincere. The album's quieter moments, like the saxophone interlude "Stranger World" and the shoegaze spaciness of "Ordinary People," also add to its overall charm.
Late track "Hold On" is an especially effective slice of adolescent yearning. Contrasted with everything that preceded it, this brief change in tone reveals that oft-hid vulnerability, which gives Wild Onion the extra push to become such a memorable listen.
With their live appearances making festival headlines–James appeared on the Pitchfork stage in a wheelchair and leg cast and sold weed to Danny Brown over Twitter after Lollapalooza–Twin Peaks prove that perhaps rock and roll isn't dead after all. Having been playing together for nearly five years, they bring out their youthful camaraderie and elated ferocity in Wild Onion. Blending the appeal of music's most beloved staples, the record is a sometimes brash, always brilliant, beer-soaked blast.