Pat Boody, Staff Writer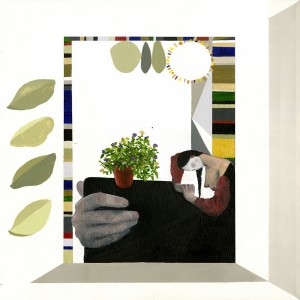 Pop-punk is a genre that has its pros and cons. Plenty of people have their personal arguments as to why the genre itself is inferior relative to others. While housing many artists who are basically just another carbon copy of bands that preceded them, pop punk has developed a reputation that can put off many and for what may seem like logical reasons. In spite of this, the few devoted, individualistic bands use this negative perception as inspiration to put out quality music that doesn't sound exactly like another band that just put out a record before them. Virginia Beach's own Turnover did just that on their record Magnolia released February, 2013.
Formed in 2009, Turnover has been maturing musically since their origin. They released a selftitled EP in 2011, which was a record with subpar production, juvenile lyrics and could be easily categorized as yet another one of these cliché repetitive bands. Their first full length redeemed the band on countless levels with a refined sound that is unique, but still expressive of the angst, gloominess and disappointment that is represented through the lyrics that is probably one of the most notable factors that allows for this record to deviate from their earlier releases. Magnolia was produced by Will Yip, who has worked with artists such as Title Fight, Circa Survive, Balance and Composure, Citizen, Cold World and Naysayer, to name a few. The sound quality also improved tremendously between releases.
The tracks of Magnolia have a somber, gloomier feel to them, which aids in giving them such an attention-grabbing sound. Their somewhat darker sound is something that gives the band an allure, unlike many others. This is music that brings about rumination and reflection on a different scale. Songs like "Pray For Me," "To the Bottom" and "Daydreaming" really attest to this and leave listeners in a trance of their own muses. What also really makes this record effective as a piece of art is that it actually provokes emotion upon listening to it. The dim, disheartening lyrics can draw a sense of empathy and relatability, but in a more negative sense in comparison to many others of their kind.
As yet another great band signed to Run For Cover Records, Turnover has definitely rebounded from their first release and solidified their place amongst their contemporaries. Magnolia is an excellent choice for a late night in your room or a contemplative drive to the beach. Regardless of where you choose to listen to them, Turnover is not your run of the mill pop-punk band–they strive to distinguish themselves, and this record manifests that. Turnover is a humble band who will continue to grow musically and are definitely worth giving a listen to.