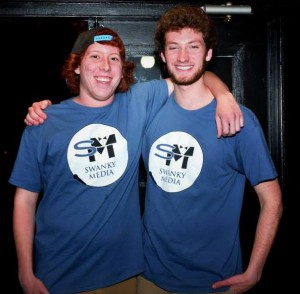 Richie Feathers, Managing Editor
  SUNY Oneonta Music Industry graduates Alex Fredkin and Tommy Sayre are coming back to town this weekend for the much-anticipated "SWANKFEST!"–though, not as performers, but as business partners. Friends-turned-business partners, the two alumni are now proud owners and operators of Swanky Media, a full-service agency that specializes in band management, booking and concert promotion.
Fredkin and Sayre recently spoke with 'The State Times' about why they started Swanky Media, how college has and has not prepared them for running it and the exciting future they see ahead.
 Before Swanky Media was even a consideration, Fredkin had been booking shows at Gallagher's Pub Club & Grill in downtown Oneonta since this Fall 2013 semester, acting as an independent middleman. Once Sayre joined, the two started booking even more shows at the venue.
 It wasn't long before they realized they not only enjoyed the work, but that they were good at it too. Even more, it involved their shared love of live music."Why don't I make my own shows, and then I get to go to them?" Fredkin said with a laugh regarding his initial considerations for Swanky Media,which finally formed in February. "I think I have the most fun at any of our shows as anyone there."
Sayre, too, describes their business as something he didn't know he was waiting for. Having gone through "about 10" different areas of focus in music, he's happy to have landed on Swanky Media.
Separately, both offer their own knowledge and experiences. Fredkin, a rare alumn from Massachusetts, manages the rap duo of SUNY Oneonta graduates Connor Craves and Mike Lovaglio, called Young Republicans, while Sayre, of Rockland County, manages the student band, Naughty.
As Swanky Media however, the two bring a collective understanding of SUNY Oneonta students, presenting events that cater to the diverse musical tastes of the campus. Past shows have featured jam, metal, EDM and acoustic music.
"Swanky Media was sort of our outlet for letting people know we're serious about doing this; this is a legitimate business now," said Fredkin of the more than 10 shows he and Sayre organized last semester. This rings especially true now that they're out of college.
According to Fredkin, even before graduation the two of them learned quickly and often that "there's no substitute for real world experience."
While both compliment the classes they've taken at SUNY Oneonta–especially noting Concert Promotion, Sayre agrees, saying they've "learned a lot more from hands-on experience."
Perhaps most of all, they've learned how to think on their toes during shows, to be ready for something to go awry. At every show Swanky Media has hosted, they have encountered unexpected problems, from missing amplifiers, to musicians showing up late, to a band being hungry for pizza. But they're each the first to recognize their own strengths and weaknesses before and during shows.
Fredkin says he always gets stressed out before the show, but remains calm during it. As a perfect balance, Sayre says the exact opposite of himself, relaxed prior and anxious throughout.
Knowing this about each other is just further proof that they've made a good decision in forming Swanky Media. Even with their understanding of the bigger issues that owning their own business in the 21st century can pose, they are optimistic.
"There are a lot of better ways to make money than booking shows," Fredkin said  with a laugh. "It's risky, but I love it."
This Friday and Saturday's "SWANKFEST!" is a "first for us," said the pair, regarding the festival's two-day schedule that features student bands such as Naughty, Bray and Somewhere Up There. In addition, Saturday's headliner, the Long Island-based Love, Robot, is the biggest band they've ever booked–it's an accomplishment they're happy to share with Oneonta.
"It's worth it to us," said Fredkin of continuing to bring "bigger and better" shows to the area. "We have loved our time here in Oneonta."
When discussing Swanky Media, both Fredkin and Sayre project a sense of excitement and genuineness toward the agency's future. Currently, they are working on more shows in and out of Oneonta, as well as trying to keep growing its band management service. Eventually, they look to expand, and hope to ultimately become known for a popular national tour and for managing the next big band.
"We want to do it all." Says Fredkin. Until then however, Fredkin and Sayre are enjoying the immediate pros of running a business like Swanky Media, noting the benefits of working with great friends, meeting new, cool people and making contacts, all of which are essential for being successful in the music industry.
"I feel proud to own a business coming out of college," said Fredkin. With sights set high, it's hard to imagine Swanky Media not fulfilling its owners' goals for the coming years.
As Fredkin puts it, "[We want to go] national and then global at some point. And then," with a laugh, "galactic."
Find Swanky Media on Facebook at: https://www.facebook.com/swankymediany