Tim Greene, Contributing Writer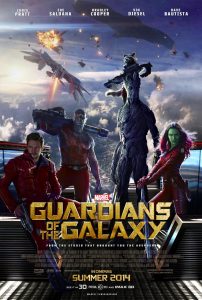 On February 18, the first trailer for the tenth film by Marvel Studios, "Guardians of the Galaxy," was released. Being the only Marvel film this year that was not a sequel, the initial response was that Marvel was finally going to have a film that flops. "Guardians" is one of the more far–out properties in the Marvel Comics Universe and some felt it was just too difficult to work.
Jump to the present, and "Guardians of the Galaxy" has earned $586,167,000 globally. Director James Gunn displayed his talent by making Rocket, a talking Raccoon and Groot, a giant tree creature who can only say "I am Groot," seem realistic in this world. Even better, they were standouts in the film; this is due to the voice acting of Bradley Cooper and Vin Diesel.
Respectively, many fans have accepted these unique characters into the larger, joint cinematic universe Marvel Studios has been building since 2008 with each subsequent film. Marvel Studios solo films are not to be confused with Twenty Century Fox's X-Men and Sony Pictures' Spider-Man franchises, which are based on Marvel comics but are their own film franchises.
Marvel Studios President Kevin Feige's idea to release their own films and have control over the creative direction was not only natural, but necessary if they plan to protect their brands. Deciding to take a billionaire playboy who builds a suit of armor, a super soldier from World War II, a scientist who turns into "a giant green rage monster" and a Norse God from another planet and bring them together in "The Avengers" hasdnever been done before, and it actually works.
To date, the Marvel Studios Cinematic Universe has grossed just under $3 billion. While they have put out hit after hit, especially in a post–"Avengers."("Iron-Man 3" grossed over $1 billion and "Thor: The Dark World" and "Captain America: Winter Soldier" earned more than their first flicks) they haven't gone without making mistakes. Two major problems come to mind and either could take the top: They are Iron-Man 2 altogether and the recasting of Edward Norton as The Hulk.
While these issues are not as major as others, they come from attempting something that has never been done. "Iron-Man 2" tried filling out the Marvel universe instead of focusing solely on Tony Stark. ("The Amazing Spider-Man 2" also suffered from similar issues this past summer.) When compared to "Iron-Man 3," besides the fan boy's reaction to butchering a beloved villain from the comics, "Iron-Man 2" is lacking in pushing any boundaries.
This brings us to Edward Norton, who was a great Bruce Banner in "The Incredible Hulk," but his decision to not reprise his role in Avengers forced Marvel to recast. The role was hastily filled by Mark Ruffalo who made the character his own and seemed to fit better in the role than Norton. While recasting major characters may be required at some point, it's not something you want to happen. This could be what led to Marvel requiring multiple- picture contracts for the actors who play a role.
While there were some mistakes in the beginning, Marvel has figured out what they want to do with their productions. One thing is clear, they have influenced Hollywood as far as what can be done with a studio's franchise, instead of having to reboot after three movies. Building a bigger universe is possible.
As a non-comic reader, Marvel Studio has me excited for what they are undertaking, and making characters that should not work do just that. Marvel has successfully taken what was once considered "nerd culture" and transformed it into pop–culture.