These pumpkin bars are delicious for the fall season and are quick and easy to prepare for holiday gatherings. Pumpkin bars are great for an afternoon snack or anytime.
Ingredients
Pumpkin Base:
• 4 eggs
• 3 cups pumpkin
• 3/4 cup oil or applesauce
• 2 cups sugar
• 2 cups flour
• 1 tsp baking powder
• 1⁄2 tsp salt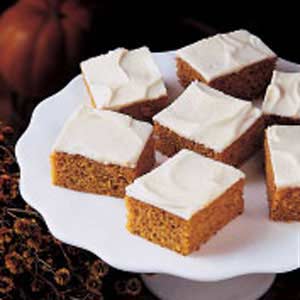 • 2 tsp cinnamon
• 1 tsp baking soda
Frosting:
• 8 oz cream cheese
• 1 stick butter
• 1 tsp vanilla
• 1 1/3 cup powdered sugar
Directions
Preheat your oven to 350 degrees.
Use an electric mixer on medium speed to combine the eggs, sugar, oil and pumpkin until it's fluffy. Using a separate bowl, mix together the flour, baking powder, cinnamon, salt and baking soda. Add the dry ingredients to the pumpkin mixture. Use the electric mixer on low until the batter is smooth. Pour the mixture into a greased baking pan. Bake for 30 minutes and let cool before adding the icing. Cut the finished product into small bars.
Icing: Mix the cream cheese and butter in a bowl with the electric mixer until smooth. Add the sugar and vanilla and mix until combined.