Hannah Griesel, Staff Writer
Madonna built her career on constantly re-inventing herself. Her desire to be bold and shocking to audiences is one of the only things about her that has remained constant. She's crossed different genre lines, including rock, punk, dance, funk, R&B and gospel. For her 2012 album, "MDNA," Madonna utilized electronic music to stay current. Her success is clearly documented: Madonna is the best-selling female rock-pop artist of the 20th century, the top touring female artist of all time and has won more MTV VMA awards than any other artist – 20, to be exact. It's no surprise that with Madonna's influence, new artists continue to test other genres than those they originally emerged from.
In late August, Taylor Swift released her new single, "Shake It Off." The song is a response to both the rumors surrounding her ("I go on too many dates/But I can't make 'em stay/At least that's what people say") and the characters that people become in the music industry. She attempts to twerk, seemingly mocking Miley Cyrus, and shows herself not fitting in with a futuristic gang that appears to be out of a Lady Gaga video. The single is off her upcoming fifth album, "1989," due to be released on October 27. "1989" will be her first official pop album, a contrast to her initial "country" works and more recent "country-pop" music. T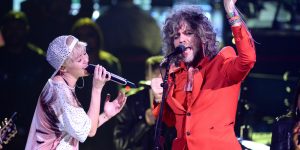 his isn't Swift's first deviation from the genre. She stepped onto the scene with: "We Are Never Ever Getting Back Together" and "22," off of 2012's "Red," were both pop songs and the album's "I Knew You Were Trouble" also incorporated some dubstep beats. Regarding Swift's change of genre, country music star, Brad Paisley told E! Online that he supports her transition and "She is not just Nashville's, [and] we just have to kind of get used to that."
Ann Powers of NPR also noted her move from the country music capital Nashville to New York City as an important indicator of her genre switch.
Miley Cyrus has worked her butt off (literally) trying to get out of the mold that her old "Hannah Montana" character put her in. Despite her strong efforts, she is still remembered by some as the cookie-cutter pop singer that she came onto the scene in 2006, and her earlier music is still around. Cyrus went through an extreme rebranding in 2012 and released "Bangerz" in 2013. "Bangerz," while still considered pop, also incorporates some country and R & B rhythms, as well as collaborations with hip hop artists Big Sean, Nelly and Future. More recently, Cyrus has been working with psychedelic rock band The Flaming Lips. Together at the Billboard Music Awards this past May, Cyrus and the band performed "Lucy in the Sky with Diamonds." In July, while Cyrus was sick from an allergic reaction, she created a trippy video with the band. In an interview with Rolling Stone Magazine, Cyrus described how impressed she was with the musicianship of the band and said that she wants her next LP to be with The Flaming Lips.
Katy Perry found her niche when she broke out of Christian music and is now a pop superstar. P!nk began on the music scene as an R&B singer, but has found even more success in pop-rock. Swift and Cyrus are established in their genres, but they both have the potential to reach an even larger fan base by increasing their repertoire.